Fly Fried in Chicken

There's something about that first crunchy bite into freshly fried chicken, and freshman political science major Bradley Manning thought he was getting just that when he grabbed lunch in the Piedmont cafeteria on Nov. 28. Unfortunately, Manning didn't find the protein he had signed up for in his entrée: he found a fried fly instead.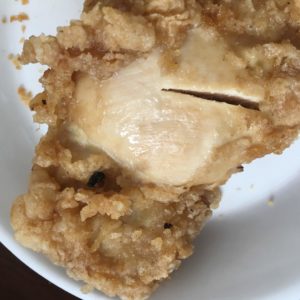 "I stopped at the Gluten-free station and got chicken because it's normally good," said Manning, who was having lunch with his friend Kayla Maddox, a freshman nursing major. "I went to go eat it, but that's when Kayla saw the fly… I didn't touch it after that."
Shortly before this incident, Manning and Maddox brought the issue of flies in the cafeteria to the attention of President Mellichamp at the Piedmont town hall.
"Sanitation is a huge concern of mine and operating a food service like ours that feeds as many people a day as it does is a real challenge," Mellichamp said. "I'm not saying they can't always improve, because everything can be improved. But I go to Wendy's, I go to Applebee's, I go to Longhorn, and I have to swat at flies there periodically, too." Manning wasn't happy with that answer then and is far more upset with it now.
"It's kind of dissatisfying because [Mellichamp] told us that they put up fly strips, and the bugs were just going to be a problem," Manning said. "But I've been to other restaurants around here and they don't have flies in stuff."
Peter Bardho, the Chartwells representative at Piedmont, responded regretfully to the students' bad experience.
"I am sorry that happened," he said. "I'll schedule a meeting with my employees and bring the concern [to their attention], and I am talking with maintenance at [Piedmont] to call the company to spray for insects."
Though Manning and Maddox no longer eat in the Piedmont Cafeteria, they hope to see improvements in the way student concerns are heard and handled.