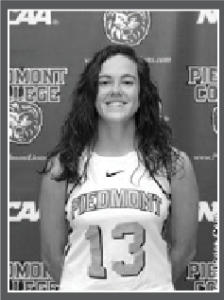 Maggie McDaniel
Freshman, mathematics major
High School: Newnan High School
Position: Midfield
Hometown: Newnan, Ga.
Experience: 3 years on the high school varsity lacrosse team and 4 years playing travel lacrosse
Why did you choose Piedmont? 
Because it seemed like the perfect fit. I like the size, location, and my coach.
On the team, what has been your greatest memory? 
My greatest memory was our team Christmas party when our assistant coach, Jessie, revealed her secret gift, which was about 15 goldfish.
What is your greatest personal achievement?
Being chosen as All County Lacrosse Player of the Year and receiving State Honorable Mention during senior year of high school and receiving a 4.0 GPA first semester of freshman year at Piedmont.
What is your personal goal for this season? 
Lead the team in steals and ground balls and to do whatever it takes to make our team better as a whole.
In the first two games, McDaniel had six goals and one assist, resulting in seven points. She had eight shots on goal with a shot percentage of .667. Additionally, she has had four ground balls.