Wainberg v. Piedmont College: Former Biology Professor sues Piedmont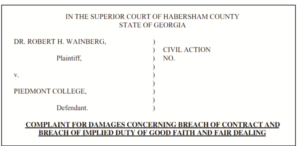 Former biology professor Dr. Robert Wainberg is suing Piedmont College for wrongful termination. The 43-page lawsuit, filed August 20 in Habersham County Superior Court, enumerates several claims against the college including breach of contract and implied duty, and seeks
Dr. Wainberg was hired in September 1988 as a tenure-track assistant professor of Biology. He was granted tenure in the academic year 1993-1994. In October 2004, the Piedmont College Board of Trustees terminated the tenure program without the knowledge or consent of Piedmont faculty and employees. Though Piedmont would no longer extend tenure, they would continue to honor the tenure of the professors who had previously obtained it.
According to the Piedmont College Policies and Procedures Manual, which the Board of Trustees approved in April of 2018 (immediately before Wainberg says he learned of his termination), "Tenure is a mutual commitment between the college and the individual faculty member… A tenured faculty member may not be suspended or discharged from employment or reduced in rank except upon the grounds specified in this manual."
Piedmont's policy states that, "Termination may occur at any time during the academic year when a tenured or non- tenured faculty member's conduct is found to be seriously prejudicial to the College…. For tenured faculty, such action will not be taken until the faculty member has had an opportunity for a hearing. Requests for a hearing are submitted in writing to the President within ten days of termination notice."
The Roar reached out to Piedmont administration for comment but did not receive a response. In a response to the news site AccessWDUN, Piedmont's Director of Marketing and Communication John Roberts stated, "Piedmont College will not comment on pending litigation."
According to the lawsuit, Wainberg's employment was terminated on the grounds of a Title IX violation. Title IX is a 1972 civil rights law which refers to educational discrimination based upon sex, and which has come to commonly refer to sexual harassment and campus sexual assault. Wainberg was allegedly fired because he used language of a sexual nature in the classroom.
"Dr. Wainberg has never sexually harassed anyone," Wainberg's attorney, Julie Oinonen, states in the lawsuit. On p.8, the suit alleges that Piedmont College administration encouraged a "disgruntled student," referred to as "R.A.," who was unhappy with a grade he received from Dr. Wainberg to make the Title IX claim (R.A. declined to comment on the litigation or the claims therein).
Students who had classroom experience with Dr. Wainberg expressed similar opinions.
"I feel as if Piedmont is unfairly firing a dedicated staff member and using the complaints of a few disgruntled students as a scapegoat to fabricate grounds on which to accuse Wainberg," senior biology major Robert Woodward said.
One student described a shared tolerance for Wainberg's questionable classroom antics.
"I was truly shocked to hear about this incident," Said junior Biology major, Emmeline Lombard. "We– like all cohorts and departments here–  are a very tight group. We were all aware of inappropriate comments made in Dr. Wainberg's classes, particularly Biology 1101, but we honestly felt like that was 'just Rob.' That was just his teaching style."
The lawsuit addressed Wainberg's approach to the topic of sex in the classroom. "Dr. Wainberg, as a biology teacher, often has to teach about human biological responses, …sexual reproduction, and all other aspects of biology that science professors are required to teach to young adults (not children) within a college classroom."
Wainberg claims that Piedmont fired him in retaliation for speaking out against "the administration's violations of academic integrity," and that the administration had long been attempting to terminate his employment.
The litigation also claims to bring to light corruption within the Board of Trustees. Policies prohibit Board members from serving within the same office for more than four years. Gus Arrendale, the lawsuit states, has been Chairman of the Board for nearly eighteen years. The lawsuit states that Arrendale appointed Mellichamp to be President of Piedmont College in 2013, and that Mellichamp "has used the threat of termination without tenure to quash dissent and silence academic freedom of expression."
Piedmont is contractually obligated to provide due process through a fair hearing before terminating a tenured professor, pursuant to the contract and university policies set forth in the faculty handbook. Wainberg asserts that he received neither proper written notice of termination nor a fair hearing.
"I believe this lawsuit is much bigger than my own situation," Wainberg said. "That a devoted professor and student advocate can be tossed aside so recklessly is unconscionable. By my dismissal, the administration is telling the community that Piedmont College has no respect for either academic integrity or the institution of tenure. This is not why we were trained to pass the torch of knowledge on to future generations. This is not our Piedmont College."