HOW COMPASS HELPS STUDENTS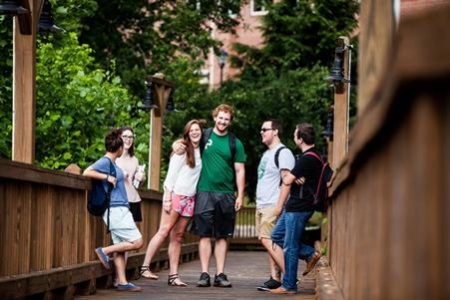 The Compass Program is the experiential learning component of your Piedmont College experience.  The program defines experiential learning as something that, "promotes interdisciplinary learning, civic engagement, career development, cultural awareness, leadership, and other professional and intellectual skills.  It allows students to take initiative, make decisions, and be accountable for the results." Most colleges and universities include some type of experiential learning opportunities.
Compass opportunities include internships, study abroad, campus leadership, independent research, and Alternative Spring Break trips.  Students are also encouraged to create their own Compass project to explore their unique ideas and passions.
There are many benefits of experiential learning, but one benefit is that it looks great on a resume. Employers will want to hire students who have participated in experiential learning because these students have developed valuable skills for the workplace, such as critical thinking/problem solving, oral/written communication skills, leadership skills, the ability to work in a team, technology skills, and a strong work ethic.  These skills are not only great to use in the workplace but are also valuable in all aspects of life.  When students develop these skills, they gain self-confidence as well as better self-esteem; they realize what they are truly capable of!
Another great benefit of experiential learning is the development of leadership skills.  Athens student, Jazmine Dunnavant, has completed four Compass projects including Alternative Spring Break, working on the Urban Garden Project on the Athens campus, coordinating a voter registration drive, and organizing a sock drive to benefit the Sparrow's Nest, a homeless shelter in Athens.
Compass projects helped Jazmine develop communication skills and become a leader.  As a result of Jazmine's work on the voter registration drive, she was selected to be a student representative on the QEP Committee.
She states, "Through Compass, I have learned that just because I'm not the type of person who can give a speech comfortably to a room full of people or be around several people at a time, that doesn't make me less of a leader."  Jazmine says that she is "a leader in my own way" and realized she had qualities of a leader that she did not know she originally had.  Jazmine even changed her major after she went on an Alternative Spring Break Trip (her fourth Compass project).  Jazmine was originally a psychology major.
During the alternative spring break trip, she was cleaning out an old tutoring center inside a house that was going to be sold.  She later found out that the county in Tennessee where she was doing this project was a poor area and the poor economy negatively impacted the schools.  Jazmine goes onto say, "During that trip, something sparked in me where I knew it was meant for me to not only be a teacher, but to push myself to do more and help to eventually change the education, which is my biggest life goal.  I feel like my life's purpose is to impact people's lives positively and to help to make a change, and that my calling to do that is to be an educator."  By participating in this Compass project, it became clear to Jazmine that she was meant to be an educator.
Compass and experiential learning are a huge benefit to Piedmont College students.  It looks great on resumes, helps you develop valuable skills and sets you apart from the competition.