Let's Eat: El Jinete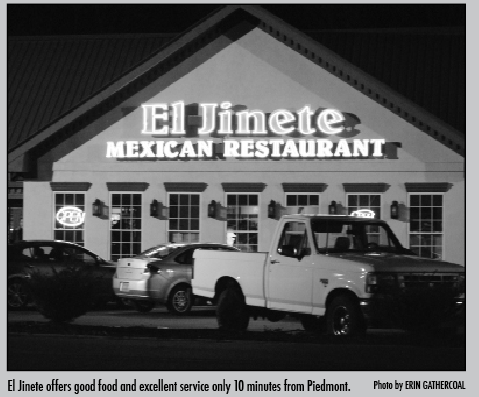 By ERIN GATHERCOAL
Features Editor
When you're craving Mexican food at Piedmont, you have several options, including El Patron and El Campesino, and if it's not already on your list, be sure to add El Jinete.
When you walk into El Jinete, Latin American music greets you, along with a warm and friendly atmosphere. I was seated immediately. 
The service was incredibly friendly and my drink was refilled often. My waiter also refilled our chips and salsa often. 
The noise level also was a problem occasionally. The music was nice, but it got a little loud at times. 
The decor consists of paintings of Mexican villages (pueblos) and metal suns hanging on the wall. Large decorative jars sit on shelves and two large TVs are on low volume.
I was surprised how quickly I received by food. I ordered a chicken taco salad. The chicken and taco shell were hot and delicious, and the salad was topped with fresh tomatoes, lettuce, sour cream, guacomole, which was delicious, and cheese. 
The service at El Jinete is excellent. Despite there being a pretty high number of patrons, my waiter checked on me often to see if everything was all right.
The portion was large, so I had to get a to-go box for leftovers, which was nice to have in the dorm for the next day when caf food wasn't great. 
El Jinete is an excellent choice for Mexican dining around town. The food is good, prices are good and the service is excellent. You will not regret it if you choose El Jinete.