Landeros Lifts Voice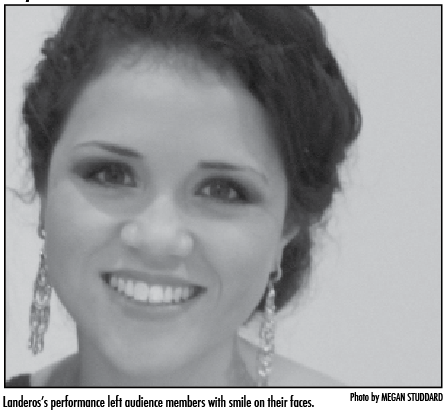 By MANYI ENO
Staff Writer
Upon stepping out of Piedmont's chapel on Feb. 9 in a dark, navy blue gown, senior Analilia (Lily) Landeros was applauded by close friends, teachers and family before beginning her senior recital. 
The event was a partial fulfillment of the requirements for the Bachelor of Arts degree in music with a performance concentration for Landeros.
The audience sat quietly listening to her voice as it flooded the chapel and they applauded after every song.
Landeros sang a variety of songs in French, Spanish and German from composers Georges Bizet, George Frederick Handel, Wolfgang Amadeus Mozart, Johannes Brahms and Enrique Granados.
She was accompanied on the piano by music professor Joy Hayner.
Dr. Andrea Price has been Landeros's teacher for the past four years. 
"I can't even begin to describe how she has grown over the years. I am extremely proud of her," said Price.
"I smiled the whole time while she sang."
Landeros greeted family and friends after the recital with a warm smile and hugs. 
"I feel amazing, fantastic, and thrilled," Landeros said while laughing. 
Senior English major Sarah Smith expressed nothing but happiness for Landeros. 
"I've known Lily since our freshman year," said Smith.
"She's a fantastic musician." 
Many of her peers expressed the same sentiments about Landeros.
"I've known Lily for about three years and she really loves what she does, it comes through her voice," said junior musical theatre major Nicholas Johnson.
"You can see it in her performance." 
Johnson went on to add that he knew Landeros's performance would be good, but that it was beyond his expectations. 
Sophomore music major Chastin Dobbs said, "She was fabulous. Especially when she sang in Spanish." 
After the recital, the audience was welcomed to refreshments in the chapel's lower level. 
Landeros's family had prepared desserts and three different dips which left many people wanting thirds.