Halo 4 Free For All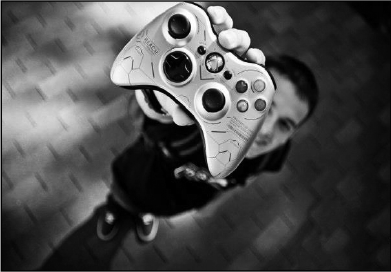 By ERIN GATHERCOAL
Features Editor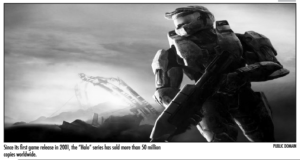 It's been said that all work and no play makes (insert name of choice) a dull boy/girl/inanimate object. Taking this into account, who says your senior capstone project has to be all work and no play? Senior mass communications major Tucker Dixon is incorporating what he loves into his capstone. 
Dixon is hosting the Halo 4 Free For All as a deliverable for his capstone project. 
"I originally had the idea of doing a documentary on the popularity of video games," said Dixon.  
Unfortunately, there are no future video game events coming close to the Piedmont area. 
"The problem was there were no game conventions like Game Developer Convention and PAX. So if I couldn't go anywhere to interview people then I had no documentary to make," said Dixon. 
"So I chose to do the tournament and it made more sense in the long run as well. Although I would have loved to make a documentary."
The main focus of Dixon's capstone is creating a website  for video game news and reviews. "I created a competition that would bring people in and expose them to my site," said Dixon.
"The tournament is to create awareness for my website that I am building and what better way then a good Halo free for all?"
The Halo 4 Free For All is open to any and all students that enjoy competitive gaming. All are welcome to join in the fun in a tournament setting. "I am trying to make it feel like a Major League Gaming style tournament," said Dixon.
In each round, players will have their own gaming monitor and headset to give them  each the same playing field. The event will be on Feb. 22nd from 8 p.m. to 10 p.m. at the Swanson Center screening room.
For those new to the Halo universe, the video game series follows Master Chief as he lands on rings in space, called Halos, and fights zombie-like creatures called the Flood. 
Those of you who doubt the greatness of Halo should know that it is considered one of the best first person shooter games for any console. The franchise has expanded to several novels, graphic novels, and a movie that is in the works.
The purpose of the Halo 4 Free For All is to promote Dixon's website that he created for his capstone. "I hope people will go to the website and enjoy the content that is on it," said Dixon.
Dixon, however, not only wants to promote his senior project, but unite Piedmont students under the flag of their love for Master Chief. 
"I want to create a small community here at Piedmont that loves competitive gaming," he said.
"I personally love playing Halo in a competitive setting. I hope those that come will keep that same fire once they leave, whether they win or lose."
Dixon has many, but some uncertain, plans following graduation in May. He plans to work in the gaming industry, working for companies like IGN and editing videos or writing articles concerning video games. 
"I also think working at a game studio would be cool too," said Dixon.
He also has interests in the film and television industry. "Working in television making sitcoms or making movies interests me as well," he said. "As you can see, I like a lot of different things, so it is hard to see what I will do."
Check out Tucker Dixon's website at http://tuckerdixon.nfshost.com.