Furry Family Friends: Habersham animal shelter offers volunteer opportunity for PC students
By AUDREY SCHROYER
Contributing Writer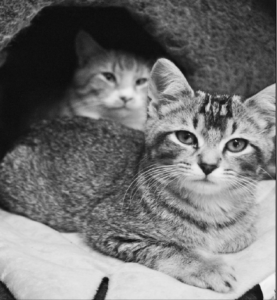 Naturalist John Muir once said, "Any glimpse into the life of an animal quickens our own and makes it so much the larger and better in every way." 
Looking into the lives of the dogs and cats at the John B. Gesbocker Animal Shelter in Habersham County, all that can be seen is animals who desperately want love and attention.
Jeff Sosebee, Animal Care and Control director, and Madi Hawkins, Animal Care and Control officer, have dedicated their time and attention to each of these animals. In an effort to find homes for every dog and cat at the shelter, they have established a fostering program in hopes that citizens of Habersham County will be more inclined to give a pet a home after spending time with it. This program was established 3 years ago. 
This fostering program is open to the public, including the students of Piedmont College. While the campus policy is that there are no pets with fur or feathers allowed in the dormitories, pets are welcome on campus in areas such as the quad and Piedmont Park. As a result, this new program has opened up a great avenue for students to enjoy the love and companionship only offered by a pet, even while in college.
According to the National Council on Pet Population Study and Policy (NCPPSP), more than 20 percent of people who leave dogs in shelters first adopted them from a shelter. Currently at the John B. Gesbocker animal shelter, there are more than seventy-five dogs and puppies, and close to thirty cats. However, the shelter takes in almost 250 animals each month. 
While citizens who willingly surrender their own pets must pay a surrender fee of fifty dollars, those who find an animal, on the side of the road, for example,  do not have to pay the fee.
However, most citizens will call the shelter and ask for an employee to come and pick up the animal. An average of 20 calls are made to the shelter every day, said one of the shelter employees.
The warm atmosphere of the shelter helps to make it a better work environment. At the shelter, one of the employees will be holding a puppy while in the main office, or a cat will be there to greet everyone who walks through the front door. All the employees are smiling individuals who are passionate about the work they do. 
Both Sosebee and Hawkins travel throughout Habersham County to rescue animals from every sort of bad situation. Every animal comes into the shelter with a story. Some dogs and cats are victims of negligent owners who leave their pets outside in harsh living conditions. Others are picked up on the side of the road after wandering around aimlessly, looking for someone to take care of them.
Sosebee said, "I've seen things here in the past four months that 23 years of police work can't even compare to." 
Sosebee and the rest of the shelter staff have to deal with difficult "customers."
Some of the citizens who come into the shelter yell at Hawkins or shout out profanities as they walk through the doors because they believe that have been wronged. Most of these citizens are owners coming to reclaim their pet from the shelter. Sometimes they cannot pay the reclaim fee or they are upset that their pet was taken away in the first place.
Sosebee takes his job very seriously, and treats every one of the animals like it was his own. He lets the puppies lick his face and gives all of the animals the attention they deserve while under his care.
A typical day at the shelter consists of cleaning and sanitizing the building before 10 a.m., answering phone calls from county citizens, and responding to citizen calls to pick up animals.
However, Ethan Hayes, who has been working at the shelter for one and a half years, said, "Every day is different as far as the animals go." On one occasion, a particular tabby cat kept finding ways out of the cat cages and made its way into the office. 
Hayes is one of six employees at the shelter. Three employees work full-time, and the shelter has one full-time volunteer.
The biggest issue facing the shelter right now is overcrowding. "There is a huge difference in our intake to outtake ratio," said Sosebee. 
The total number of adoptions from the shelter is only 242 out of almost 2,500 animals a year, including Hawkins' efforts to send the animals to other shelters in Georgia, even to shelters in other states. With Hawkins' help, 127 of those animals have been rescued by other shelters.
The shelter euthanizes some of its animals, usually due to health reasons or if an animal is dangerous. It is very rare that they put down animals due to overcrowding. Sosebee said, "We'll keep the shelter packed as long as we can."
The shelter's fostering program started three years ago and has helped increase the number of adoptions by 50 more adoptions, according to Hawkins. Anyone can foster a dog or cat as long as he or she has the means to take care of it. Filling out a foster agreement form is the only requirement.
Students at Piedmont College make up a large portion of the foster program participants. Some students come in to do community service work for a PC101 class, and end up spending an entire afternoon taking different animals out to exercise. Others are looking for a pet to take home, and in some cases, they do. Heather Maddox, a sophomore, fostered a black lab and boxer mix puppy, whom she named Jane. "From the moment I saw Jane, I loved her. She is so cute and happy. I just had to adopt her," said Maddox. 
Maddox would often walk Jane around campus or throw a ball around with her in the park on Piedmont's campus. Other students and their puppies would make appearances on the quad so the puppies could run around and be free.
The policy regarding pets on Piedmont's campus according to Drew Davis, dean of student affairs, is that no pets will be allowed inside the residence halls with feathers or fur due to allergies and cleaning. All pets must be approved by the resident director of that specific building before being brought onto campus.  
Pets permitted on campus, when approved, are non-venomous fish, reptiles and amphibians. A resident may only have two tanks in their room: a ten gallon tank for fish and a 20 gallon reptile tank. Animals should be caged at all times. Students should not walk around buildings or campus with an animal that is not in a carrier. 
Anyone found to have an unauthorized pet, including dogs and cats, within the residence halls is subject to a $50 fine and must find an alternate housing arrangement for the pet on the day of the infraction or face higher fines.  
Sosebee and Hawkins are very pleased with the attention that the shelter has received from the students of Piedmont College. The dogs and cats, however, are more pleased with the love and care that these students have shown them. 
To see animals available for adoption from the John B. Gesbocker Animal Shelter, as well as other shelters and rescue groups in Georgia, go to http://www.petfinder.com/pet-search?shelterid=GA571.