wcon inducted into Broadcast hall of fame
By LAUREN BARTLETT
Living Editor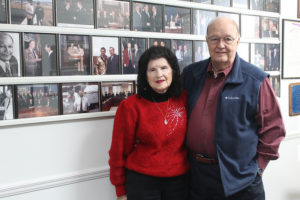 Local residents John and Bobbi Foster are the joint owners of the local radio station, 99.3 WCON, located right in the middle of Cornelia, Ga. After many years of hard work, WCON has been given the opportunity to be inducted into the Broadcast Hall of Fame.
Each year one person is inducted, but this year, it's a new type of induction. The Fosters are the first couple ever to be inducted into the Broadcast Hall of Fame. The couple has been running one of Georgia's favorite stations for over 50 years, playing country and gospel music.
Together, the couple has accomplished many things. WCON was awarded Station of the Year in 1999, and when they first opened the business, they started off at 250 watts. They now reach over three million people in Georgia and South Carolina. Trying to reach more, they recently applied for 100,000 watts, which is the largest amount you can have for a station.
The Foster are graduates of Piedmont College. John Foster made the comment that along with his college education, learning important lessons along the way as a business owner has allowed the station to thrive.
Not only has the couple done an impressive job running a radio station but they have been very involved in the community as well. Bobbi Foster was a teacher, but she left that career to help her husband and focus on the radio station.
John Foster served in the state senate, and he is still currently a member of the Piedmont College Board of Trustees.
John Foster said, "We're really proud. We've been very, very fortunate to have good support from the people. The local community has been very good to us, and they have always supported the radio station. We don't have anything other than deep appreciation for how people have been good to us and supported us. In return, we give the listeners what they want to hear."
When asked if they had any advice for anyone wanting to get into the radio business, Bobbi Foster said, "Be patient, and take on any struggles you come upon one step at a time." John Foster continued to say, "Make sure you have a commitment to want to be in the field, and be dedicated. It takes a lot of work, and you have to start at the bottom, unless you have a major amount of talent and a major amount of money."