Legendary Football Coach Visits PC
By Manyi Eno
News Editor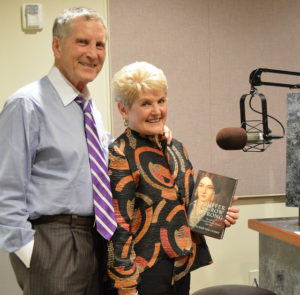 The Curry's after Carolyn's interview with WPPR
On Thursday, Oct. 30, Piedmont got a special visit from legendary football coach Bill Curry. Curry is retired but has coached several football teams including Georgia Tech, University of Alabama, University of Kentucky and Georgia State University.
However, Curry was not at Piedmont for any athletic reasons, but for his wife, Carolyn Curry, who is currently on a motivational book tour for her recently published story "Suffer and Grow Strong: The Life of Ella Gertrude Clanton Thomas." The book tells the story of a woman who keeps a diary for 41 years of her life before, during and after the Civil War.
Carolyn Curry visited Piedmont to promote her book in a radio interview with Piedmont's Candice Felice who runs WPPR, which is a Georgia Public Broadcsting station.
In a short interview with Bill Curry, he said that now that he is retired, he is happy to travel around with his wife to promote her dream.