Senior Night Results in Close Victory
By: Josh Parris
Staff Writer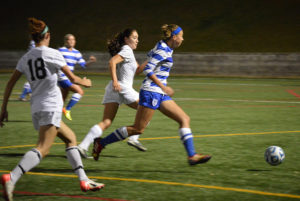 Fourth-year Shayna Rogers and second-year Megan Hatfield run to take possession of the ball
Piedmont women's soccer held their senior night on Oct. 29 against the Covenant Scots at the Walker Athletic Complex. The game ended in a 1-0 victory for the Lions, which put them in a tie for the USA South Conference regular season championship, gave them the conference record of 10-1-1 and a season record of 14-4-1.
Fourth-year defender Kelsey Shaffernoth, one of the three senior players on the team, said, "The win on senior night was a key victory for our team because it helped make us regular season co-champions. Being a senior made the win that much more enjoyable, and I'm proud of my team for accomplishing it."
The three senior players of the women's team, Schaffernoth, midfielder Shayna Rogers and forward Nikki Means celebrated their four years at Piedmont before the game began as they walked with their families on the turf of the Walker Athletic Complex. As they stepped on the field that day, it started the second to last home game of their career at Piedmont College. This senior class secured two NCAA Conference Tournament titles and two NCAA National Tournament appearances. The last game they played on Piedmont's field was a USA South quarterfinal game against North Carolina Wesleyan.
The game against the Covenant Scots was decided by an errant pass off a Scot defender. First-year forward Erin Bright deflected the pass off of a Covenant's back, which put the ball just out of reach of the goalkeeper. This occurred in the forty-third minute and inevitably led to the Lions' victory of 1-0.
Michaela Gardner, the third-year goalie of the Lions, and her defense kept the Scots scoreless the whole game. Michaela made five saves, which gave the team their sixth shutout of the 2014 season.
With this win, the Lions were placed in the second seed of the USA South Conference Tournament because of an early loss to Meredith College. They faced North Carolina Wesleyan, the seventh seed in the conference, on Nov. 1 and lost after an intense penalty shootout in double overtime. This loss prevented the Lady Lions from moving on in the USA South Conference Championship's next round of playoffs.