White House Launches "It's On Us" Campaign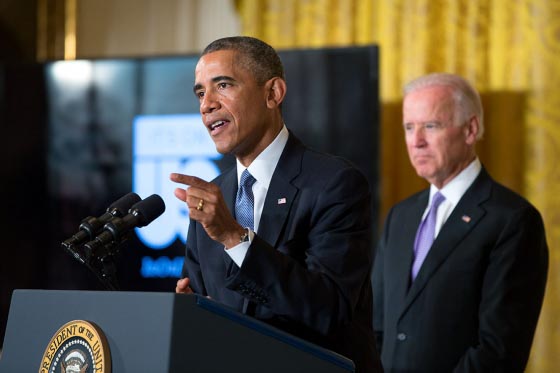 By Manyi Eno
News Editor
Awarness Campaign to Change College Policies on Sexual Assault
On Sept. 19, the White House launched a campaign titled "It's On Us" to raise
awareness about sexual assault on college and university campuses.
"It is on all of us to reject the quiet tolerance of sexual assault and to refuse to accept
what's unacceptable," President Obama said in his speech during the launch at theh
White House.
In an interview via email with Dean of Student Engagement and Director of Career and
Personal Counseling Emily Petit, she said that students have the power to impact whether
a sexual assault even happens and that the "It's On Us" campaign is about being a part of
the solution.
According to President Obama in his speech, one in every five women are victims of
sexual assault. Petit said that while the percentages range from one in four to one in five,
"this is an estimate at best and sexual assaults are one of the most underrated crimes in
the United States."
Petit explained that since many sexual assaults are committed by an acquaintance, a
friend or partner, coming forward to report the crime can be difficult.
"No one asks to be assaulted; it's not the survivors fault," Petit said. "We care about
each student and their success at Piedmont College. If a student reports a sexual assault,
we have services available."
The President Obama also stated in his speech that many people think that women are
the only victims of sexual assault, but that is not the case, men can also be affected.
"Regardless of gender, we are here to help," Petit said. "Come forward, let us help
support you and direct you to resources on campus and in the community."
Petit continued to say that administration wants students to feel a sense of community
and care for each other.
The "Not Alone" report was created by the White House to protect students from
sexual assault, according to the report's website. The memorandum for the report was
signed on January 22, 2014. The McCaskill Report was a survey created by Senator Claire
McCaskill of Missouri who became the biggest voice for fighting against sexual assault in
the military and now on college campuses, according to In the Capital website.
"Not Alone" and the McCaskill Report, according toPetit, are interested in
understanding what is happening on college campuses regarding sexual violence and are
asking college campuses to report a "campus climate" survey by 2015.
"Piedmont College is working with other independent colleges across the state to
develop and implement the survey," she said.
Petit said she encourages anyone impacted by interpersonal violence to seek support.
In October, Petit said that select Piedmont staff will be participating in a two-day
workshop with other Georgia colleges to discuss sexual assault policies and
implementation. "Meeting the needs of the students and supporting a collaborative
learning environment is always under constant review at Piedmont College," Petit said. To learn more about the awareness campaign, the launch of the campaign and to hear
President Obama's speech visit www.whitehouse.gov.