Lions claw down Scotties 3-0
By: Justin Vallejo
Contributing Writer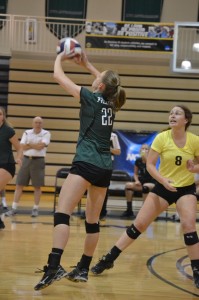 It was a packed house in the Cave Arena on Wednesday, Sept. 17 for a non-conference
matchup between Piedmont College and Agnes Scott. The Lady Lions were able to sweep the
game away, winning all the matches. This pushed their overall record to 8-3.
The first match the lions were able to come out on top with a thriller score of 25-17. Both
teams were trading blows with each other until the Lady Lions were able to pull past the Scotties.
The second match was even tighter of a game with Piedmont only being able to win with
a score of 25-19. Piedmont came out hot and stepped on the Scotties throat at the beginning of
the match, but Agnes Scott had a comeback of their own. It just wasn't enough to pull away with
the victory, and Piedmont came out on top.
For the third match, the Lions student section, also known as the cave crazies, were
getting fired up to see the girls sweep the rival Aggies.
"It started to become very hostile in here, and that gave us an extra push to come out on
top in the third match" said fourth-year opposite Kaitlin Norman.
The Lions were able to shoot out in the beginning of the third match, and there was no
looking back after that with a score of 25- 13.
On Sept. 20, Piedmont traveled to play a USA South conference match against
Huntington College and LaGrange College. Piedmont won both games with results of 3-1 and 3-
0 respectively.
Piedmont faces Covenant College in their next game on Wednesday, Sept. 24 at 6:30
p.m. in Cave Arena at Piedmont College.