New Residence Village to Built by 2015
By Noah Holt
Staff Writer
Piedmont will be welcoming a new addition called the Piedmont Student Village this coming October.
Due to the amount of growth these past few years, Piedmont is due for some new housing.
According to President Mellichamp, "We have the largest residential population on campus this fall with
[approximately] 604 students." This is the largest amount of residents Piedmont's campus has ever had.
In hopes to avoid giving upperclassmen roommates, Piedmont will be building the new Student Village off
Demorest Mount Airy Highway.
Piedmont needs additional space because the school is continuing to grow, so by opening The Student
Village it will allow for Piedmont to have almost 800 students reside on campus. Currently, the total number of
students Piedmont can accommodate is 615.
Mellichamp hopes to see the school grow to have "hopefully 700 to maybe 800 students total at some point in
time" living on campus.
The Student Village will be a "cluster of 12 buildings" made up of two floors. They will be apartment style
housing with four bedrooms and two bathrooms. They will have small kitchens somewhat similar to the kitchens
in Ipswich.
There will be balconies for the apartments on the second floor and patios for the apartments on the first floor.
Each of the apartments in the Student Village will also have their own washing machine and dryer.
Rules for The Student Village may be different from those of the resident halls on campus, but are not
completely worked out yet.
Mellichamp said, "There will be different polices that apply to the village."
However, he does believe that "there will be a more relaxed set of housing regulations for the students that
are living there."
There will be a Resident Director in the Village, but the school has not decided whether there will be a
Resident Assistant.
The Student Village will be opened to upperclass students, juniors and seniors.
Graduate students looking for places to live will also be able to choose this option, and President Mellichamp
mentions maybe allowing married students to have this option as well.
The new village will still be considered 'on campus' so athletes will certainly be able to live there.
Residents in the village will have a 'modified' version of the existing meal plans.
President Mellichamp said, "They do not know yet exactly what this will look like."
The Village will be more expensive to build and operate, so students can to expect to pay more to live there.
The Student Village is guaranteed completion by July 25, 2015. This means that in Aug. the first group of
seniors and juniors that would like to reside in The Village can move-in.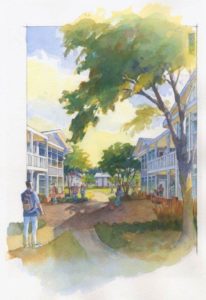 Photo courtesy of Piedmont College