Eberhardt pleads guilty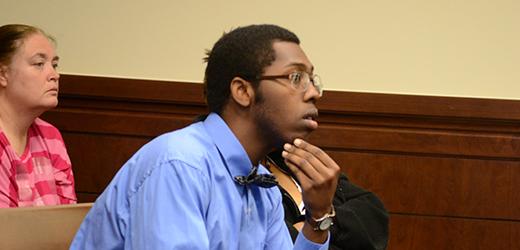 BY MEGAN STUDDARD, Editor-in-Chief
Former student Rickey Eberhardt has been banned from Habersham County and will serve time in jail after pleading guilty to child molestation charges issued on campus over two years ago.
According to reports from the Habersham County Sheriff's Office, Eberhardt was arrested on campus Jan. 25, 2012, just four days after allegedly having sexual relations with a minor in his Johnson Hall dorm room.
Investigators from the HCSO reported Eberhardt met the then 13-year-old boy via Grindr, a smart phone application for gay and bi-sexual males.
Eberhardt  was charged with sodomy, child molestation and enticing a child for indecent purposes, and served time at the Habersham County Detention Center (HCDC) from Jan. 25-June 18, 2012 until he was released on a $15,000 bond.
An April 9 article in The Northeast Georgian reports that Eberhardt was served a letter of expulsion by Piedmont College during his five-month stint in the HCDC.
In Magistrate Court, Monday, April 7, Eberhardt entered a guilty plea to child molestation, and Chief Judge B. Chan Caudell sentenced him to eight years probation under the Georgia First Offenders Act.
He will also serve 30 days in jail, pay a $1,000 fine and $400 in attorney fees, be banished from the county and refrain from contacting the victim.
The final sentence came after Caudell initially rejected Eberhardt's first plea. This forced modification to the original negotiation that had Eberhardt pleading to a lesser charge of sexual battery. The original sentence included no jail time and only five years probation, as well as prohibited contact with the victim, banishment from Habersham County, a $1,000 fine and $400 in attorney fees.
Caudell expressed his concern that the original sentence was not justified.
"I just don't believe it's in the best interest of justice or…our society as a whole," Caudell said.  "I don't think the [original] plea agreement fits the allegations."
Caudell was also disturbed by a comment Eberhardt made earlier in the sentencing. When Caudell asked if Eberhardt had anything further to say, Eberhardt replied, "No sir, I think I'm pretty good."
"Mr. Eberhardt, this is not all about you. There is a victim in this case," Caudell said.
Before receiving his sentence, Eberhardt explained that it was hard for him to "pick back up" after serving jail time when he was arrested.
"This is just really, really difficult to have never done anything [illegal] and to be facing this kind of severity is a very difficult situation," he said. "I'm just trying to be strong through this, but it's hard. It's scary."
"I can't say that it didn't happen, because it did, and it was a mistake," Eberhardt said.  "It was a mistake I know for a fact will never happen again."
Since Eberhardt was sentenced under the FOA, he will eventually be able to honestly say he's never been convicted of a crime, as long as he completes the conditions of his sentence.  According to Caudell, If Eberhardt violates the terms of his probation, he could face 20 years jail time.
Piedmont College had no comment on the case.