Men's Lacrosse falls to Centre College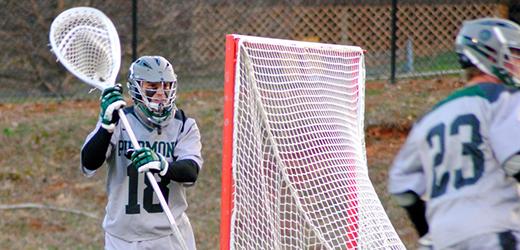 BY JANIE HARRIS, Staff Writer
On Tuesday night, the shuffle of tired feet echoed from the Walker Athletic Complex into the Johnny Mize Athletic Center as the defeated Piedmont men's lacrosse team made its way into the locker room after a 15-6 loss to the Centre College Colonels.
"The team worked hard, and that is really all we can ask for," said sophomore attackman Taylor Carter.
In the first quarter, Centre started off with two scores over Piedmont, but early in the second quarter, Piedmont gained a point, fighting to keep up with the Colonels.
Centre soon answered Piedmont's goal with five more in the second half. Piedmont, attempting to catch up, scored twice within the last four minutes of the second quarter. The scoreboard showed 7-3 at halftime while the players huddled with their respective team to rally for the second half of the game.
Head coach Peter Manderano stated that Centre went to the NCAA tournament last year and did not lose a single player from the previous year. He also said that Centre's goalie and offense were very efficient, and it was hard to compete against that.
"They're very experienced. They're well coached," said Manderano.
As halftime ended, snow began falling onto the already shivering crowd and the players of both teams, but this didn't affect the players according to Manderano.
"Being from New Hampshire, it's definitely not completely out of the ordinary. It was definitely a new experience for down here though," said Carter.
Centre started off the third quarter, scoring within the first five minutes. They followed up their own scoring with another goal less than five minutes later. The Lions kept up with the Colonels during this quarter, scoring two goals as well within the last six minutes.
Then the fourth quarter started.
"It was a hard fought game for three quarters, and we kind of let it get away from us in the fourth," said Manderano.
Scoring three goals within the first five minutes, Centre dominated the field during the fourth quarter. They continued command of the field with three more goals, no goal being more than three minutes apart.
But the Piedmont was resilient, scoring one more time before the game ended.
"We had our opportunities, and we capitalized on some of them," said Manderano.
Piedmont goalie Dale Morley had a total of 12 saves and allowed 15 goals.
Those who scored for Piedmont include Nick Green  with assists from Sumner Gantz and Holin Axley, Steve Blanchard with an assist from Green, Carter , and Axley.
Piedmont won 11 face-offs, had 18 turnovers and eight penalties.
Piedmont men's lacrosse is currently 5-6 overall with three games remaining in the season.
The Piedmont men's lacrosse team's next game is on Saturday, April 5, 2014 at 11 a.m. against Ferrum College at Walker Athletic Complex.