Lions Baseball pays it forward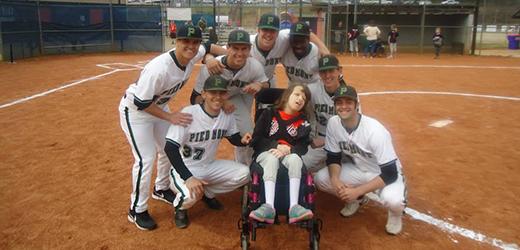 BY JESSIE OWENSBY, Co-Opinions Editor
On Saturday, March 22, players from Piedmont's baseball team took time out of their day to help the local community. Although the Lions played the number one seed in their bracket that day, they took a couple of hours out of their pre-game day routines to join the Habersham County Challenger team. The challenger team consists of children of varying ages throughout the Habersham community that have disabilities.
Players lended a hand on the field to help handicapped children in the community grasp the concepts of baseball, and learn the fundamentals of the game. They also stood in line to give high fives, took pictures and signed autographs with the young players. Senior pitcher Matt Lisk said, "I really enjoyed helping out and donating my time. I wouldn't have missed out on this opportunity because I was always taught to give back what has been given to me. I most certainly would do it again because it will always bring joy to my heart to see the smile on those kids' faces." They helped with batting, running the bases, coaching, and catching the ball.
Chad Hoose is the parent of Challenger player Katelyn, who has hydrocephalus, cerebral palsy and epilepsy. He said "The players were so nice to my Kate and so helpful. I thought it was great that they took time out of their day, even when they had a game, to come and help us out!"
Coach Peeples said he heard about the game through his neighbor and a couple of Piedmont alumni. Peeples said, "Our guys appreciate when the local kids come to our games, and we wanted to help out in the community."
On Sunday, March 23, the baseball team volunteered at a free clinic. The clinic was open to the Habersham County Little League, and the Lions spent about two hours there after the game with Huntingdon. Assistant coach Justin Scali had the idea to encourage the players to go and help.
"It was a lot of fun," said Coach Peeples.
Lisk said, "Giving back to your local community shows how much you care and support them, because they come to our games to support us.