Meet Kim Wheetley
By NJOKI COLEMAN
Contributing Writer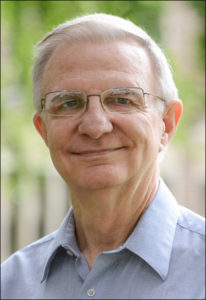 The Piedmont College Department of Theatre produces four productions in its mainstage season. The department has three directorial professors, one for each production, leaving room for a guest director.
The fourth and final show of this season is the musical "Little Shop of Horrors" with guest director Kim Wheetley. This week, The Navigator got the chance for a Q&A session with Wheetley.
Where are you from?
Wheetley: I am from White Deer, Tx.
Have you always wanted to be involved in theatre?
Wheetley: I actually planned on being an architect. I enjoyed building and drawing plans. I later took a mechanical drafting class and hated it.
How did you get started in theatre?
Wheetley: I got started in theatre in high school. The high school I attended didn't have a drama or theatre classes, but they had speech classes. I took speech classes, and my teachers inspired me to teach.
What is your past theatre experience?
Wheetley: I studied theatre education at the University of Texas in Austin. I went to graduate school in Berlin where I studied European theatre. I worked in Santa Monica, Calif. for a professional theatre company. I went to Thailand and taught at an international school. I worked at the University of Tennessee Chattanooga and created the Southeastern Education in the Arts outreach program, where it trained teachers how to teach, art, music, theatre, and dance. I was a director of theatre for 10 years and an executive director for 25 years.
How long have you been involved in theatre?
Wheetley: I have recently retired in January after spending 45 years in the field.
What drew you to this project?
Wheetley: Kathy Blandin, an assistant professor at Piedmont College and I worked together in Chattanooga. We ran into each other at the Southeastern Theatre Conference and she told me the Piedmont College Theatre Department of Theatre was looking for a director for the "Little Shop Of Horrors" production. Directing is my passion, and it's something I have missed.
What is your concept for "Little Shop Of Horrors?"
Wheetley: When I first saw the Blackbox Theater ,it looked like a soundstage to me. I thought of creating homage to the original film. This concept merges aspects of theatre and film.
After this production closes, what is your next step or future plans?
Wheetley: I am going to Bali. I plan on taking visual art lessons and seeing some type of performances.
"Little Shop Of Horrors" opens in less than two weeks. To start this production on a high note, on Apr. 10 there will be an opening night launch event.
The event will start at 6:30 p.m. and wrap up at 7:15 p.m. before the performance that evening at 7:30 p.m. The event will take place in the Swanson Center in the lobby outside of the Blackbox Theatre and light beverages and refreshments will be provided.
The purpose of the event is to kickstart the four performances of the production and to bring about excitement, so attendees can tell their friends and family to see one of the remaining performances.
The show runs Apr. 10-12 at 7:30 p.m. and Apr. 13 at 2:00 p.m. To reserve tickets, call the Piedmont College Department of Theatre Box Office at 706-778-8500 ext. 1355.