Piedmont Marketing Club hosts first annual career day [Slideshow]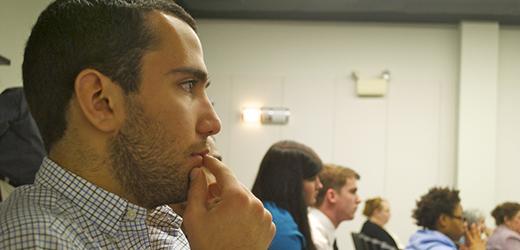 BY HILLARY KELLEY, Features Editor
Graduation is fast approaching for many students, and the outlook on the job market make soon-to-be graduates nervous.
Part of being able to conquer the real world is to obtain the skills needed to network with various business and market oneself to potential employers.
One way to learn both skills is to attend a job fair, which is what Piedmont offered for the first time on March 24 in Camp Hall and the Stewart Auditorium.
The event was organized by the American Marketing Association (AMA) to give Piedmont students from any class and major the opportunity to network with various businesses.
The adviser of Piedmont's AMA, Professor Stephen Carlson, was responsible for brining in the businesses and was able to call on some of his own contacts to provide a wide array of companies attending.
As a result, Community Bank and Trust, Enterprise, Habersham County Schools, Initials Inc., Mansfield Oil, Scovill and Suntrust set up tables to meet with students, answer their questions and review their resumes.
The event also allowed students to participate in workshops that aimed to help them with interviews and provided them with headshots to use on the business-to-business site LinkedIn.
In order to attract students to come to the event, senior business major Katheryn Knarr printed and distributed flyers on every door on campus.
"It was a learning experience, and we just tried to make it accessible to everyone on campus," said Knarr.
The behind-the-scenes efforts of the AMA resulted in an attendance level of 30-40 students for job fair and workshop activities.
A total of around 45 students also filled the Stewart Auditorium to listen to the guest speaker, Glen Caruso.
Caruso functioned as the keynote speaker for the job fair with a speech titled "Learn Strategies to Turn Social Media from Foe to Friend."
He discussed the importance of online advertising, an area in which Caruso has extensive experience.
He is also the former Atlanta chapter president of the AMA and has worked with many top-name companies.
The success of the event has prompted Piedmont's AMA to try to make the event an annual occurrence that students can take advantage of.
The best part was meeting potential employers," said senior business major Quentin Deaton. "They all gave great advice [and] the guest speaker was awesome."