An International Night to remember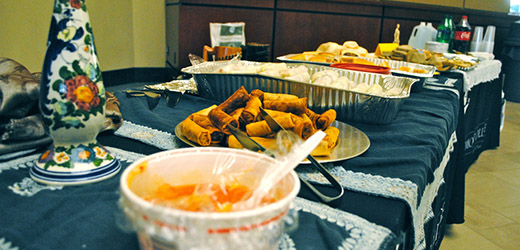 BY SHELBY WHITEHOUSE, Contributing Writer
The second annual International Night at Piedmont College was held on Thursday, March 13.
The night was all about teaching attendees about different cultures.
"This year's International Night was definitely a huge success. Big thank you to all who helped, donated and showed support through attending. We truly thank you," said senior music major Nicholas Johnson, one of the students in charge of facilitating the event.
The night was emceed by Admissions Advisor Lily Landeros, whose hosting style made the audience laugh no matter how tough the subject was.
The night opened with sophomore history major Kordai Harris and Johnson singing the United States of America's National Anthem. The entire room stood to sing along.
Landeros then introduced junior music major Storm Tipton as the first act of the night.
Tipton played the guitar and sang an American song that portrayed the stereotype of being better than everyone else. It had the audience laughing the entire time.
The second act was freshman music major Cheyanne Osario, who represented Hispanic culture by singing a Spanish song.
The third act was an Irish dance by junior theatre major Shelby Myers.
Myers has been Irish dancing for 11 years and wanted to share what it was like.
She started the performance in a soft shoe, known for one kind of Irish dancing and switched to a hard shoe in the middle of her performance.
Following Myers was Piedmont's own professor of German, Monika Schulte.
She discussed the differences between the German and American cultures.
She also spoke to the audience about moving to this country and not knowing much English.
Due to misunderstanding parts of the English language, Schulte was made fun  of when she pronounced different words and how she took some phrases too seriously.
Schulte made it her goal to express to everyone that moving to a different country was very difficult.
Afterwards, freshman music major Albert Gerring sang a song and played the piano.
However, this wasn't an American song, but a song that was sung in perfect Swahili. Most people in attendance had never heard this.
Junior music major Seth Schutter accompanied Gerring on the drums.
Between every act, contests were held with prizes for the winners.
Junior mass communications major Brock Bennett won the contest for best roar.
There was another contest that required three students to try to introduce themselves in three different languages.
The next contest was called the wildest audience member award where the audience was asked to be as loud as they could.
Then, two international students, freshman theatre major Sarah Sharp from England and sophomore engineering and physics major Matt Metzger from New Zealand, competed in an American slang contest where they were challenged to define different American slang words or quotes.
The closing act of the event was a song by senior music major Lydie Koffi that brought all audience members to their feet.
Koffi's parents even joined her on stage in their traditional outfits.
After the performances, there was a reception catered by many of the cast and different restaurants that included many ethnic foods.
The night was a huge success for the second year and will continue on as an annual event.