Sweetwater Slam speaks volumes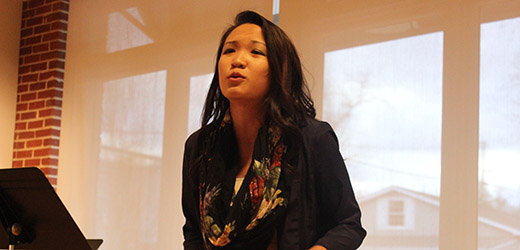 BY EMILY CLANCE, A&E Editor
On Wednesday, Feb. 12, the Sweetwater Slam, a spoken word poetry event featuring both student poets and special guest poet Kavi, took over the Mason-Scharfiensteien Museum.
The event, which was part of senior mass communications major Hillary Kelley's capstone, drew a sizable crowd to the museum. Guests enjoyed refreshments and Starbucks coffee as they chatted with each other and waited for the slam to begin.
Many of the audience members were new to the art of spoken word poetry but eager to experience it for the first time.
The first poet to perform was senior English major Robby Bailey, who presented multiple original works. His voice was soothing and his poems eased the audience into the show and, for those who had not yet experienced this style of art, into spoken word as a whole.
Next to perform was Catherine Moore, sophomore English major. Her poem was a letter to her mother and told about Moore's admiration for her and the struggle they both went through when Moore's mother was diagnosed with breast cancer.
Moore delivered her piece with passion, energy and love, and her performance moved several audience members to tears.
The third performer was sophomore mass communcations major Manyi Eno. Similarly to Moore, Eno's poem was also a letter but to her father. In it, she talked about their relationship and how she wanted to see him again.
Eno's voice was calm but her words conveyed the same level of emotion as Moore and Bailey had before her.
Kelley herself recited one of her own poems next. While Eno, Moore and Bailey had all read theirs from pieces of paper, Kelley memorized her piece and stood serenely still, using her hands to emphasize certain points.
Last to perform was special guest poet Kavi. A journalism graduate from the University of Georgia, Kavi won a poetry slam competition in Atlanta in April 2012 with her poem "On Graduation." This piece was the first she performed at the Sweetwater Slam, and in it she told of her parents expectations for her and how she followed her own dreams instead.
Kavi's second poem, titled "Hair," was about being Vietnamese-American and preserving her culture even as she grew up in the United States.
Her third and final piece was called "Another A," and in it she spoke of how she defied people's initial expectations of her based on her appearance.
Before each of her poems, Kavi described the different life experiences that inspired each piece. The poems listed on her website are also accompanied by the stories behind them as well as video of Kavi performing.
For more information or to view Kavi's performances, visit
www.kavivu.com.
Kelley considered her event a success, as her ultimate goal was to bring spoken word poetry to Piedmont. The performing poets were inspired, too, by their performances.
"I had a lot of fun working with Hillary and becoming part of her capstone," Moore said. "Poetry has a special place in my soul and to perform it in a way that I never have before gave me a new perspective on how to write it."