Sacrificing Saturdays for snow?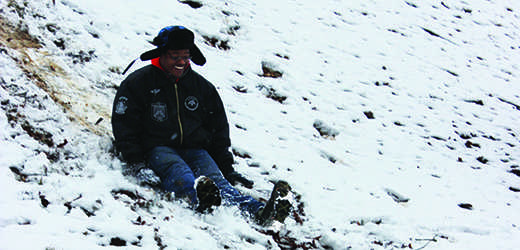 Pictures by Summer Lewis

Created with flickr slideshow.

BY MANYI ENO, Co-Opinions Editor

Last week, Georgians experienced more snow, and Piedmont students had two extra days without classes.

In an email sent out to students from Vice President for Academic Affairs Perry Rettig, classes after 3 p.m. were cancelled on Tuesday, Feb. 11, cancelled all day on Feb. 12 and 13, and a two hour delay on Friday, Feb.14 with classes starting at 10 a.m.

Dean of Student Engagement Emily Petit sent an email to students during the snow days to inform students of the facilities that were opened and closed on campus.

Sophomore arts administration major Chance Hunter said that he mostly stayed inside and worked on projects, but that some of his friends spent the free days out in the snow.

"The first snow day I actually got done [with work] early and watched the snow [fall]," he said.

Known for its hot climate, Georgia managed to hold onto the snow Tuesday afternoon and all day Wednesday, but it began to slowly melt on Thursday.

However, classes were still cancelled on Thursday.

Some Piedmont students may wonder how and why administration made the decision to keep the campus closed for two and a half days.

Rettig explained that he along with President James Mellichamp, Chief of Police Dick Martin, Executive Vice President for Institutional Resources John Misner and Dean of the School of Business and Vice President of the Athens campus Mel Palmer all sit down to discuss whether the campuses should be closed.

"All together we make those decisions," Rettig said.

Mellichamp explained that the difference between public and private institutions is that public universities are frequently asked to consider other questions, such as what other public university-system schools are planning to do.

"Decisions may be made by 'higher ups' in the system offices rather than by the individual colleges/universities," he said. "The governor can close all public institutions himself. Here, [Mellichamp] will make that decision."

"Any time we can hold classes without jeopardizing safety, it is always preferable to be 'open for business,'" Mellichamp said.

According to Mellichamp, Piedmont always bases its decisions upon safety for students, faculty and staff.

"Generally, we want to know if parking lots, sidewalks and major roadways are clear and accessible. Unlike public K-12 school systems, we do not have 'snow days' built into our academic calendars."

Rettig also emphasized that the safety of the students, faculty and staff is the number one reason for closing the school.

"On this campus, we have a larger residential population, but we have just as many commuter students on this campus. We also have the Athens campus that has all commuters," he said. "So, there's a lot of people who have to travel, and that all has to be considered."

Both Mellichamp and Rettig said that they do consider the complications there are for commuters who are parents.

"It is a concern, but not a primary concern," said Mellichamp. "In addition to students, we also have faculty and staff members who have children who are equally affected."

"In all cases for students and employees, people have to make their own best judgment," Rettig said about commuters and faculty who have families. "If campus is open, and I feel for where I'm living and have to commute that it's unsafe, I have to make that decision; they have too."

Rettig explained that the administration does not have a particular number of days set to tell them when missed days have to be made up.

"We don't really have a particular date that triggers," he said. "The way I look at it is that students and their families are paying for their education here and with that comes expectations that they are going to be taught the content and instruction that goes along with that. If we feel that we can't make up, then we might have to schedule extra time."

Mellichamp said that it is possible that students will have to come in on a few Saturdays to make-up missed days of classes.

"That is currently a possibility being discussed—especially if we encounter further inclement weather moving forward," he said.

In a quote published in the Athens Banner-Herald on Feb. 17, Mellichamp said that Piedmont "is pretty flexible, and so more than likely we will be able to hold make up days on Saturdays to avoid going into spring break in March."

However, Rettig said "presently no" students will not have to come in on Saturdays to make up days.

He explained that the administration's biggest concern was that since this is the first eight weeks of the semester, the snow days would put them in a position to schedule additional days.

"It's a different picture if it's over 16 weeks; we're almost at the end of an eight-week term so I think we are fine," he said.

"I would be really mad if they [the administration] said we had to have school on Saturdays," Hunter said. "I feel like that class day [on a Saturday would cause me] be like 'Nope, sorry. Definitely not coming because it's Saturday and I want to sleep in.'"

Rettig explained that spring break will likely not be affected by the cancellations.

"I will say, I've talked with all the deans, and they are talking with their faculty to make sure that the content of their courses is being covered," he said. "They will do that [decide make up days] on an individual basis with their students to decide how best to cover this."

Rettig also explained that a couple of classes may have already decided to make up days on their own.

A few students have complained that the snow days, have put them behind on assignments and projects.

Hunter explained that he currently has six classes, and they all have projects that were supposed to start in class last week.

One of his classes meets twice a week. Every time there was a snow day, it happened to fall on the days of that class.

"Now, all of these projects are piled up on one week," he said. "I definitely did enjoy them [the snow days]. They were kind of lazy days but definitely lazy days full of work."

The question of whether spring break will be affected by the number of closed days was not considered much in the discussion administration had for make-up days.

"Scheduling classes during that time would be a last resort," Mellichamp said.