Editorial: Golf practice facility flaws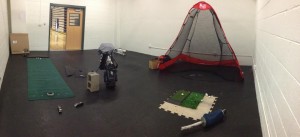 BY JOSEPH MORRIS, Contributing Writer
Golf is the only sport at PC where the players cannot walk out the door to their practice facility.
Golf players are offered the opportunity to play at The Orchard in Clarkesville free of charge; however, it is an inconvenient distance for most players. The Orchard charges around $40 for a round of golf for non-students.
"We have to drive 15 miles there and 15 miles back," Will Jarrard said. "That's a lot of gas, not including the wear and tear we put on our cars. Plus, we go practice about five times a week. That's around 150 miles a week. If my car can only go 300 miles on a tank, then that is half a tank. The cost of half a tank for my truck is $35. That's a pretty good chunk of change I have to spend a week."
Not only does traveling that far to practice increase the cost of playing the sport to the golf players, but it can affect other aspects of players' lives as well.
"Not having a facility affects my studies," Jake Forbes said. "When I have to drive that far back and forth to practice, it takes a lot of time out of my schedule. I lose at least an hour of study time each practice day."
Forbes also said, "It also affects my capabilities to practice during the winter because I cannot practice when it is very cold outside. It can destroy the clubs."
Head Coach Michael McMunn said, "We are working on a practice facility as we speak. We just ordered a hitting net and a putting green that we are going to put in a spare room. As time goes on we might be able to upgrade this program and get bigger and better things for a practice facility."
Other Division III golf teams have practice facilities on their campuses, and some even have courses right next to their school. There isn't a college that has a course on campus, but it does have practice facilities.
Corey Hall, a former player of Oglethorpe College, said that they had to pay for their gas as well, but they had a little indoor practice facility. Piedmont can make the move to be like other colleges and have the same things those other collegs have or better.
Many of the problems the golf players now face could be resolved.
The golf program is now making a move to put a practice facility on campus so the golfers don't have to travel as far to practice, lose study time or pay additional out-of-pocket expenses.