Men's Lacrosse scores last minute goal for the win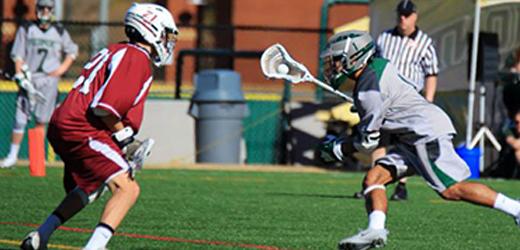 BY JANIE HARRIS, Staff Writer
Transylvania University's men's lacrosse team hung their heads as they left the Walker Athletic Complex,after a 13-12 loss to the Lions last Saturday.
The Piedmont College Lions defeated them in the last 12 seconds of the game with a goal scored by junior midfielder Spencer Ortis.
This improved  Piedmont's overall record to 3-0.
"It was awesome. It was just awesome," said Ortis as he exited the locker room.
It was the Transylvania Pioneers first game of the season, and they started the game off scoring within the first minute.
They continued to dominate the field in the first quarter, allowing only two goals by Piedmont and scoring four for themselves.
But, the Lions soon began to catch up.
In the second quarter, Piedmont scored four goals and allowed three. At halftime, the Pioneers led the Lions by a single goal.
In the third quarter, Piedmont tied the score within the first minute.
By the end of the third quarter, the score was 11-10 with the Pioneers in the lead.
In the fourth quarter, the Lions made a goal within the first five minutes. Another five or so minutes went by and the Lions scored again.
During this quarter, Piedmont's defense stepped up and allowed a single goal to be made by the Pioneers.
The game was now tied.
The last seconds of the game dwindled as sophomore attack Taylor Carter passed the ball to Ortis.
Ortis' shot passed the goalkeeper and went into the goal. The crowd went crazy.
The members of the Piedmont men's lacrosse team on the field ran together in celebration. Carter turned and signaled to the crowd to get pumped up.
The game was not over. There was one more faceoff.
Players took their positions for the last faceoff. Piedmont's sophomore long-stick midfielder Carter Jara picked the up ball. The game was over.
After losing against Transylvania University last year, Head Coach Pete Manderano said they knew it was going to be a tough game.
"[Ortis] did a great job at putting the ball where you need to put it, and you can't ask for better than that," Manderano said.
Piedmont goalkeeper Mick Baker had a total of ten saves and allowed 12 goals.
Those who scored for Piedmont include sophomore Nick Green, Ortis and Cariello.
"We only had three goal scorers today… Sometimes you just got to go with the hot hand, and our guys stepped right up there in the end," Manderano said.
Piedmont won 17 face-offs, had 19 turnovers and eight penalties.
"It was a good win," Manderano said.
The Piedmont men's lacrosse team's next game is on Wed., Feb. 26 at 4 p.m. against Berry College.