Wanderlust: Piedmont's thrifting circuit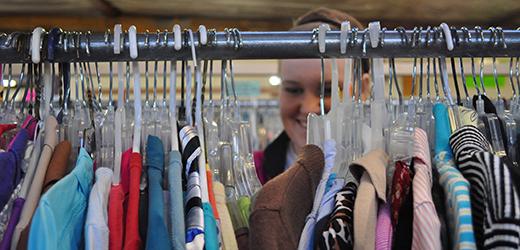 BY HILLARY KELLEY, Features Editor
Whether you're looking for the perfect tacky Christmas sweater, a comfy Cosby-style sweater, or need to enter a Macklemore look-alike contest, thrifting is for you.
If you're not looking for any of those things, thrifting is still for you. There are plenty of prime thrift locations only a short car ride away from campus. So clear your Saturday schedule, saddle up, and sift through some used clothes and housewares.
Maybe you'll find some treasures for yourself.  Gather a few friends to make the trip more enjoyable, and they can provide feedback on whether or not the find is a good  buy.
Mapping out what stores you want to visit before setting out is a great idea, because the hours of operation will vary from store to store.  In Clarkesville, the Circle of Hope Thrift Store and CommUnity Thrift are just a walk between each other.
The Circle of Hope Thrift store is among the pricier of the two, but CommUnity Thrift has less to look through.
On a larger scale, Good as New, located near the Longhorn's in Cornelia, has more room to roam around and is reasonably priced.
While there, patrons can pop by the store next door for a wide variety of antiquities, but should expect to pay the high price for those vintage finds.
A tip to keep in mind is that you should always have an open mind.
Some of the best thrifting finds are pieces you may never have considered for yourself.
Another great thing about thrifting in a group is that your friends may find something for you that you missed and vice versa.
Also, yard sales can yield great results, so stop by when you see one of the dozens of handwritten, neon signs in case that perfect item is waiting for you.
If you don't find anything you love on your first try, thrift stores add items to their floors all the time.
Making that return trip later may result in finding the jackpot.
Happy thrifting.