PC Theatre's 'Blithe Spirit' a hit [Slideshow]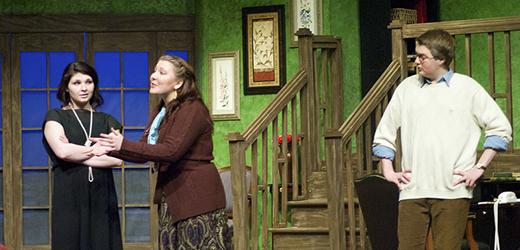 BY BOB CAREY, Contributing Writer
Piedmont's theatre department opened their first show of the semester, Noel Coward's famous play "Blithe Spirit," on Feb. 14, due to inclement weather.
Audiences saw seven very talented performers act out the play, but what they didn't see were forty other talented dramatists behind the scenes.
They turned lights off and on at the right times, moved props as quickly as possible to the correct locations between scenes and made tables bounce and chandeliers swing at the exact moment called for in the script.
All of these theatre students were guided by Assistant Professor of Theatre and director of the play John Spiegel, who learned his craft the same way they did.
Assisting Spiegel was Associate Professor of Theatre Henry Johnson, the show's technical director.
"[Blithe Spirit] is the most technologically challenging play we have ever done," Johnson said.
The play included mediums, ghosts, seances and hauntings, for which Johnson had to figure out various effects.
Books had to fall off of shelves, pictures had to fall off of walls and decorations had to fall from the fireplace mantel, and all had to happen on cue.
The student in charge of cueing all the effects in "Blithe Spirit" and in other shows is the stage manager.
This person must be on his or her toes with timing and must be precise when giving orders to those students actually causing the "tricks" to happen.
What was amazing about "Blithe Spirit" in particular was the huge amount of dialogue. Every performer on the stage  had to memorize tens of thousands of words and say them at exactly the right time.
Some of the performers were in two plays at once. How they kept two different sets of lines separated in their minds seems miraculous.
Students met on 24 different occasions, including Saturdays and Sundays, to work on this play.
The first four meetings of any production are called "blocking." This is where the performers learn where and how to move as the play progresses.
The students build the sets for their plays themselves. In this case, it was the living room of a rich couple. Every detail was taken care of, including painting, installing fancy molding and putting pictures on the walls.
They receive no extra credit for this. In fact, all theatre students carry a full load of classes in other subjects, with at least 15 credit hours each.
During each school year, the theatre department performs a series of different plays, chosen by Bill Gabelhausen, head of the department.
Before "Blithe Spirit," the department put on "Courage," an adaptation of Stephen Crane's novel "The Red Badge of Courage."
The theatre department's next show and final show of the year is "Little Shop of Horrors," a musical that is set to run from April 10-13 in the Blackbox Theater.
Created with flickr slideshow.