Jack is back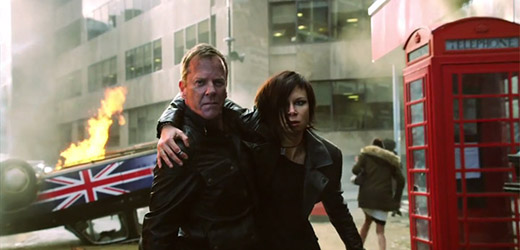 BY VIRGINIA WALTON, Contributing Writer
During a commercial break in this year's Super Bowl, FOX announced the return of their Emmy-award winning show "24."
For fans of the show, it means more action and more romance with their favorite special agent, Jack Bauer.
"24" ran for eight seasons from 2001-2010, with 24 episodes in each season.
Each hour-long episode represented an hour in Jack Bauer's life; each 24-episode season represented one day.
During its run, the show was praised as one of the best shows on television. It won 20 Emmy awards, two Golden Globes, four Screen Actors Guild awards and two Television Critics Association awards, as well as earning nominations for several more awards.
The show ended several years ago because its ratings had gone downhill and the writers seemed to be running out of fresh ideas.
While "24" was a favorite among critics, both viewers and critics thought it was too controversial and it portrayed Muslims in a bad light.
Yes, the show was controversial and there were Muslim terrorists on the show. However, this was not always the case.
Many domestic terrorists on the show were white Americans who found the government to be corrupt the way it was and wanted a change.
"24" portrays the government as realistically as possible while making it exciting so the audience can have action and romance.
The show presents controversial ideas because things in the world today are controversial.
It allows viewers to see that domestic terrorism is a problem and that radical Muslims are not the only people committing these acts.
The return of "24" also means more action and more romance, making many people very excited about its return.
The creator, Joel Surnow, originally wanted the idea of the show to become a feature film a few years after its end.
He eventually realized that the characters in the show and what they go through could not be condensed into a two-hour feature film.
In place of a film, twelve episodes representing an entire 24 hours will air in May.
The show had eight successful seasons with many brilliant actors and actresses.
However, the main actor of the show, Kiefer Sutherland, is nervous about the return of the series.
In a recent interview with the Today Show, he said, "We did eight seasons that we were all proud of, and so to open the can up again is potentially very dangerous."
The new twelve-episode installment is called "24: Live Another Day." In the promos released during the Super Bowl, the backdrop seems to be London.
This has also caused controversy because the show is known for trying to parallel current world events.
Some viewers are afraid that Jack Bauer is getting into more tricky business involving recent terrorism acts in England and other areas of Europe.
All in all, this should be an interesting experience for everyone.
Fans of the show should tune in to FOX on May 4 for more adventures with Jack Bauer.