Oscar buzz: the race for Best Picture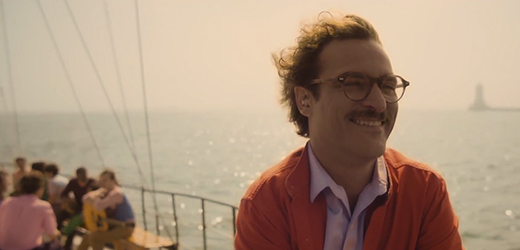 BY BEN FOX, CONTRIBUTING WRITER
With the Oscars only 25 days away and nine movies you probably haven't seen yet nominated for best picture, you need the down-low of what to watch for.
Of the eight nominees – "American Hustle," "Captain Phillips," "Dallas Buyers Club," "Gravity," "Her," "Nebraska," "Philomena," "12 Years A Slave" and "The Wolf of Wall Street" – there are three films in particular to look out for when the envelope opens: "Gravity," "Her" and "12 Years a Slave."
"Her," a film about a man who falls in love with a computer operating system, sounds like an odd choice for Best Picture. But the movie is more about what it is like to be human and what it is like to feel and accept love, loss and, most importantly, joy.
This deep storytelling matched with beautiful cinematography and score gives the film a pure ambience that leaves you relaxed and satisfied. The film's art design and subtle storytelling convinces you that this future society is not an impossible one.
Technology in the film is practical, and although it is more prominent than today in people's lives, it does not impede or control them. Fashion, although different, does not feel as though it is too far off from where it is today.
It does not show the future as something to be feared or to prepare for, but as potential.
"Gravity," a film disguised as an action-filled space adventure, is a film of letting go of what hinders you and how to grow out of it.
With a small cast of two of Hollywood's best actors, Sandra Bullock and George Clooney, the film was in the top ten best grossing films of 2013. Its popularity was well deserved.
The technology put into this film made an immersive product where you weren't just watching a woman fighting for her life in space; you were there with her. Both the 3D visuals and the sound design made you feel as if you didn't hold your breath along with the characters, you would run out of oxygen as well.
The cinematography of this film was breathtaking as well. Many shots would last for several minutes at a time, even when the action of the scene would normally call for massive editing and countless camera angles.
This all came together to create an immersive experience, and brought something more to the world of film.
"12 Years A Slave," a film about a free man in the 1800s who gets sold back into slavery against the law, has already won the Golden Globe for Best Picture. It is a true, heart-wrenching story of the life of a man who is torn from his family and sold into slavery.
With a star-scattered cast featuring names like Benedict Cumberbatch, Michael Fassbender, Sarah Paulson and Brad Pitt and new talent Lupita Nyong'o, who is sure to win the Best Supporting Actress category, it is one of the best acted films I've seen in a while.
The story telling is gripping and gets attached and involved with the characters. If it does not win the award for Best Picture, it will surely win for Best Adapted Screenplay.
While all the films nominated are incredible in their own right, these are the most likely to win the award.
Of the three, "Her" is the most impressive film among them. "Gravity" possesses the next step of theatrical experience, while "12 Years A Slave" tells the best story.
Where all points must be considered, "Her" is the most deserving of the award. All of the nominees will be deserving of the award if they are to receive it.