Zombie capstone invades Piedmont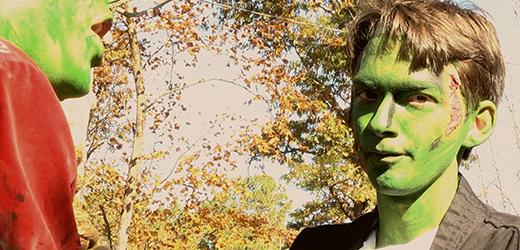 BY EMILY CLANCE, A&E EDITOR
Spring semester means that, once again, it's capstone time at Piedmont. While most seniors are stressing over their final projects and all the requirements they must meet before graduation, some, like theatre major Chase Weaver, will be having a relatively relaxing semester.
Weaver, like a few other seniors around campus, completed his capstone this past fall, even though he won't be graduating until May. At the end of last semester, he premiered his project, a short film titled "The Morteville Incident," on the big screen in the Swanson Center Mainstage Theater.
Starring senior mass communications major Fletcher Deal, then-senior theatre major Abbie Strickland, junior theatre major Jacob McKee and former theatre major Oliver Merritt, "The Morteville Incident" is an unconventional take on the zombie apocalypse.
The character Chase, played by Deal, has recurring nightmares about a zombie uprising. When a zombie named Sid (McKee) begins to raise an army of the living dead in an attempt at world domination, Chase and his friends (Merritt and Strickland) take matters into their own hands to keep their town safe.
With a strange sense of humor and great performances from the cast, including an appearance by then-senior history and theatre double major Whitni Coke as Satan, Weaver's capstone is certainly unique and will stick in the memory of the cast, crew and audience for some time.
Weaver spent a considerable amount of time working on "The Morteville Incident" even before last fall. According to Weaver, he's had the idea for the film since early in high school.
"My friend and I were discussing ideas we would actually like to see on screen, and one of us mentioned zombie rockers," he said.
"That image tumbled around in my head for a couple of days, and, during a slow day at work, I wrote a small song for my friend to sing while being eaten by the undead, and everything sprouted from that."
Originally, the plan was to make a feature-length zombie rock opera for his capstone, but the film quickly ran into several obstacles, the biggest being a financial issue. Weaver said he tried to raise money for the project through crowdfunding on Kickstarter.com, but that it didn't go as well as planned.
"The fundraiser fell through, so we transformed the idea to create a short film without music which would be one aspect of a pitch, as if I was trying to sell the script to a studio," he said.
Filming the movie took place over three weekends, with the cast and crew arriving early and staying until late in the night. Many scenes were filmed on Piedmont's campus, while some were filmed in Cornelia and the surrounding area.
"To film each scene, we would travel to location with a camera crew, lighting crew, and the actors needed for the shots," Weaver said.
"We shot with two cameras, so a majority of the angles during conversations were taken simultaneously, which let the scene flow naturally once edited."
From start to finish, from the first idea to the premiere of the film, "The Morteville Incident" took Weaver a total of seven years to create. Most of the time, he said, was spent perfecting the script, and most of the film's actual planning has happened at Piedmont.
As with all projects, Weaver does have some things he would do differently, given the chance to do it again.
"If I were to make the film again, my priorities would be raising the budget I'd need to do what I had originally envisioned," he said.
"With funding taken care of, we could afford to hire a full band, rent locations, and buy equipment versus renting or borrowing cameras and mics."
At the premiere of "The Morteville Incident" in Dec. 2013, Weaver added that, given a choice of any actors to perform in his film, he would keep the same cast, placing emphasis on keeping Coke in her role.
Because of technical issues at the premiere, Weaver is planning on holding another showing of his film sometime this semester, most likely through Piedmont's film club on their short film-centered night.
After graduation, Weaver plans on attending Tom Savini's Special Makeup Effects Program at the Douglas Education Center in Pennsylvania. Savini is known for his makeup and special effects work in horror movies such as "Dawn of the Dead," "Friday the 13th" and "Creepshow." Alumni of his program have gone on to work at places like the Smithsonian Institute, "Saturday Night Live" and Universal Studios Halloween Horror Nights.
Weaver had some advice gathered from his experience making "The Morteville Incident" for aspiring filmmakers considering a similar undertaking for their own capstones.
"The best advice I can offer to future directors would be to find a cast and crew that share your passion and determination for the film," he said.
"Plan multiple backup plans, as at least one of them is sure to run into problems along the way, and do not work yourself to death. Your health and your academics come first."