Dodd exhibit attracts major attention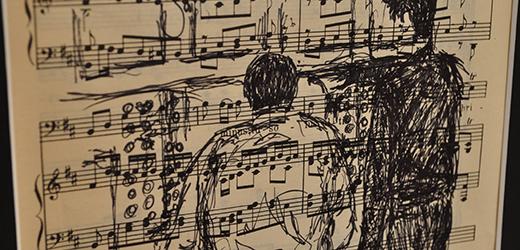 BY HILLARY KELLEY, FEATURES EDITOR
A small woman with a handful of colors streaking her short hair commanded a captive audience in the Mason-Scharfenstein Museum with her soft-spoken, warm-hearted reception speech on Thursday, Jan. 16.
Rosemary Dodd, an alumna of Piedmont College from 1969, will showcase her artwork in the museum through Jan. 30. The collection of works includes a variety of drawings on various kinds of paper, like sheet music, and a few colorful, large-scale paintings that complement the black lines that make up her drawings.
The speech she gave included some laugh-inducing anecdotes about how she began drawing on mediums other than the traditional drawing paper.
According to Dodd, she would drive to classes and rehearsals for her daughters' dance recitals all the time and had nothing to do but sit and wait.
"I saw 'The Nutcracker' till I was nutty," said Dodd.
So one day, she opened up a recital program and began sketching, becoming interested in the way the drawings looked on top of the words.
"I started doing that at every performance," said Dodd.
"And as long as they were small programs it [didn't] seem to disturb anybody."
She then moved on to drawing atop sheet music and friends began to give her music for that exact purpose, including an entire piece from the Atlanta Symphony.
She concluded her speech with a heart-felt thank you to all who attended the reception, and there was no shortage of attendees. The foyer of the museum was so packed that the group of students, faculty and members of communities beyond Piedmont itself stood nearly shoulder to shoulder.
"I enjoyed the gestural style of the work and just the free-flowing and very natural feel of the overall show," said junior art major Nikki Blanchard.
"Rosemary is probably the friendliest person I know of," said sophomore art major Chance Hunter.
Dodd has spent quite a bit of time interacting with students as she has been auditing drawing classes this year, and the students have a high level of respect for her and her work.
"She has a wonderful view on life that is translated into her paintings and other works of art, [and] I personally felt that this was the kind of show that we needed here at piedmont," said Hunter.
Anyone interested in seeing Dodd's work can visit the museum during the hours of 10 a.m. and 5 p.m. Monday through Saturday until the exhibit ends on Jan. 30.