Dorm life disrupted during freeze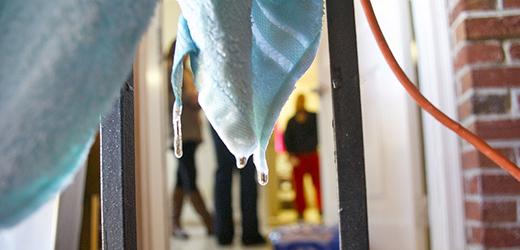 BY ALEX SMITH, SPORTS EDITOR
On Tuesday, Jan. 7, Tori Mitchell, a sophomore chemistry major, returned to her dorm room in Swanson Hall to discover a big surprise: three inches of water flooding her room. She rushed to salvage her belongings, but most of her possessions were ruined.
According to Parks Miller, assistant vice president for administrative services, a sprinkler head bursting caused the flooding.
Unfortunately, the outdoor temperatures did not reach higher than 25 degrees; consequently, anything that was hung out to dry, froze.
"Maintenance came, they removed all the water out and then helped me and Kristina [Coggins] move all of our belongings out of the room," Mitchell said.
Mitchell and her roommate, Coggins, were relocated to Wallace Hall.
"Walking into your room to find three inches of water on the floor is naturally a stressful matter," Coggins said. "However, with the help of the school and some great friends, our move was as easy and peaceful as it could possibly be."
Additionally, they bought new items to replace their ruined possessions.
"The college has replaced damaged items," Miller said.
Mitchell's computer was damaged in the flooding, and she is still waiting for that to be replaced.
"We are now in the process of getting those things paid for by the school," Mitchell said. "They are handling it as best as they can. It's [going] take time no matter what happens."
On the same day, only about 100 feet away, Purcell lost heat throughout the building. The heat loss lasted about four days.
"Purcell Hall is heated by a large electric boiler, which heats water that circulates through heaters in each room. Our maintenance workers have replaced some parts in the boiler to make it operational," Miller said.
With no heat in the building and outside temperatures reaching lows of seven degrees, students complained of having to wear almost everything they owned just to stay warm.
"It was freezing and I had to wear every jacket I owned. I went out and bought a space heater for the room," said freshman business management major Jake Forbes.
According to Forbes, the college is not going to reimburse him for his space heater.
"It was about 4 to 5 days, but it felt like forever," said Todd Marquis, a freshman business major. "It was pretty bad. I mean, it was hard to get sleep and was pretty uncomfortable."
Marquis said he hasn't heard anything about compensation for the students.
Additionally, Swanson and Johnson had their laundry rooms shut down as well because of frozen pipes.
"There was nothing students could have done to prevent this from happening. It was a record cold wave," Miller said.
Created with flickr slideshow.