Long-awaited Internet upgrade completed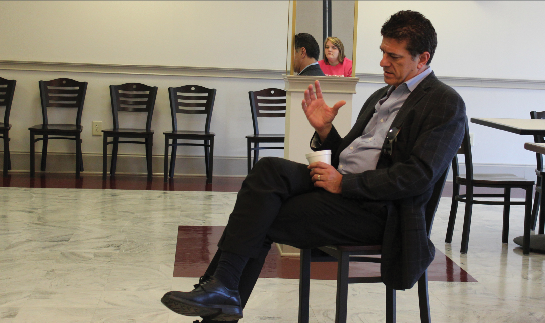 By: MEGAN STUDDARD
Editor-in-Chief
On Nov. 6, Student Government Association held an open meeting for students to ask questions about the Internet. However, there was an important group missing – the students.
Shahryar Heydari, head of Piedmont's Information Technology department, fielded questions about Piedmont's Internet and spoke about the new upgrades.
According to Heydari, Piedmont has recently upgraded to a 1 gigabit network.
Last year's upgrade brought Piedmont's bandwidth up to 200 megabits shared between the main campus and the dorms.
However, as students quickly realized after moving in this year, Wi-Fi service was lacking in the dorms.
Heydari said that a major part of the problem was the fact that students are using more devices that connect to the Internet.
Students' laptops, tablets, smartphones, gaming consoles and even smart TVs all take up space on the network.
"In the past, a typical user would take up, at most, one IP address whereas now, …the typical user now takes up at least three addresses on the network," Heydari said.
This semester, Heydari and his staff began looking at ways to increase Piedmont's bandwidth.
"We were caught by surprise at first but as soon as we found out our bandwidth was not going to be adequate, we went ahead and researched our options," he said.
Heydari explained the difficulties that come with upgrading the Internet on campus.
"Unfortunately it's not that easy to just flip the switch and increase bandwidth," said Heydari. "You have to deal with the telecommunications companies. Whatever they provide, you [have to] go from that."
Windstream is the telecommunications company responsible for providing Internet service at Piedmont College.
After researching the options Heydari proposed to upgrade the bandwidth from 200 megabits to 1 gigabit.
"There's not one school within 100 miles of us [that has this bandwidth]," said Heydari. "We're very unique in that sense. I'm very proud of it."
According to Heydari, there are now separate connections for the academic side of campus and the dorms.
"We kept the dorms separate so neither one would affect the other," he said.
The new upgrade now allows students to do more online, including gaming like Xbox Live.
However, Heydari said the IT department will continue to monitor the status of the network and make decisions accordingly.
"We're going to monitor it. We take a look at the network logs and the network health," Heydari said. "Based on that, we will make decisions that we believe will best serve you as students. So far, it's been good."
Junior mass communications major Sarah Smagur asked Heydari about blocked websites.
Earlier this semester, many sites, including Netflix and Hulu, were inaccessible in the dorms.
Smagur noted that a site she needed for her film class, IMDB, was blocked, and she wanted to know why.
According to Heydari, streaming media sites were blocked earlier in the semester, before the upgrades, because they were slowing down the Internet speed for everyone.
"At first, due to the limited bandwidth, we tried to get what we considered academic sites…to take priority," he said. "Things that were taxing [the network] were streaming video sites like Hulu and Netflix. We decided to cut those until we got the bandwidth in place."
These streaming media sites, he said, check the bandwidth capacity before streaming video.
"If they see you have a fat pipe, they will try to stream in HD," he said. "The first couple of people to get HD will ruin it for the rest of the users."
Heydari said they are now using a process called throttling that prevents one user from hogging all of the bandwidth.
Heydari also noted that the firewalls Piedmont has in place may have blocked some sites.
He encouraged students to contact him if there are sites they need unblocked.
Bandwidth is not the only thing that has been upgraded on campus.
"There have been a lot of hardware upgrades around campus," said Heydari. "All of the aging switches and the wirings were upgraded so that we can take full advantage of our gigabit network."
SGA President Sam Thomas told Heydari that students have been responding well to the new upgrades.
"I think the fact that no students are here [at the meeting] is a testament to the new upgrades," said Thomas.