Lady Lions Soccer falls to Emory in NCAA Tournament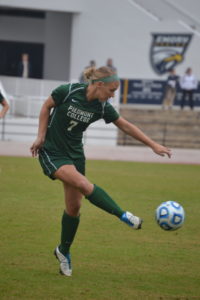 By ALEXANDRA SMITH
Sports Editor
The Lady Lions soccer team played in the NCAA tournament this past Saturday against Emory University in Atlanta.
Emory defeated the Lady Lions 6-1 to end their season. The Eagles scored three goals in the first 11 minutes of the contest to put away the Lady Lions early on as Piedmont was eliminated from the NCAA postseason.
Senior Laura Goodwin said, "Making it to the national tournament is such an awesome experience, and I feel so lucky to have had it twice in my soccer career. Emory is a great team and since they are located in Atlanta, a ton of fans were able to make the trip to support us."
Piedmont started off pressuring the Eagles early by earning a corner kick to put Emory on their heels. However, that was short lived as Emory scored in the fifth, ninth and eleventh minute to tally more goals than PC has allowed in any 90 minute game during the 2013 season, struggling against the top ten team.
The Eagles scored again in the 27th, 30th and 42nd minutes to add on three more goals to put Piedmont down 6-0 at the half.
Freshman Marissa Akin said, "Coach Petey gave us nothing but confidence to win. He told us we came this far as a team and to do everything on that field for each other."
Piedmont came back from the half ready to work, which was evident when senior Laura Goodwin received a cross from senior Sarah Hill and scored in the 55th minute which was Piedmont's first goal in the NCAA National Tournament in the program's second appearance. Goodwin's goal was her 17th goal of the season.
"At first I was very nervous playing in such a big game but the upperclassmen really helped the younger players relax," said Akin.
That goal from Piedmont ended a scoreless streak by the Eagles who had not allowed a goal since Oct. 18 in a 2-1 win over New York University.
"We knew Emory would be good, but Petey and Timmy both had faith in our team's ability to compete. Although we lost, we played a much better second half. Petey and Timmy reminded us to be proud of everything we accomplished this season," said Goodwin.
The Eagles posted 28 shots to five for PC though four of those for the Lady Lions were on target as Emory put 11 on frame. PC averaged 15 shots per game this season and 2.3 goals per game.
"After the game, Coach Petey was upset about the loss but knew as a whole our season was very successful and he couldn't be more proud of how much we accomplished," said Akin.
Senior goalkeeper Marjorie Hammond posted four saves on the game and sophomore goalkeeper Michaela Gardner posted one save on the game.
"With knowing we could have played better, the team was upset about the loss but we worked hard all season and everyone was overall very satisfied with our final record," said Akin.
The Lady Lions finish the year at 17-3-2 overall having claimed the program's first-ever USA South Tournament Championship just a week ago.  Piedmont's NCAA appearance in the program's second such showing in the last three seasons.
"We had a hell of a season, and one bad half isn't going to take that from us. The team and coaches have so much talent and the women's soccer program will only continue to become better in the upcoming seasons," said Goodwin.