Comedy for Charity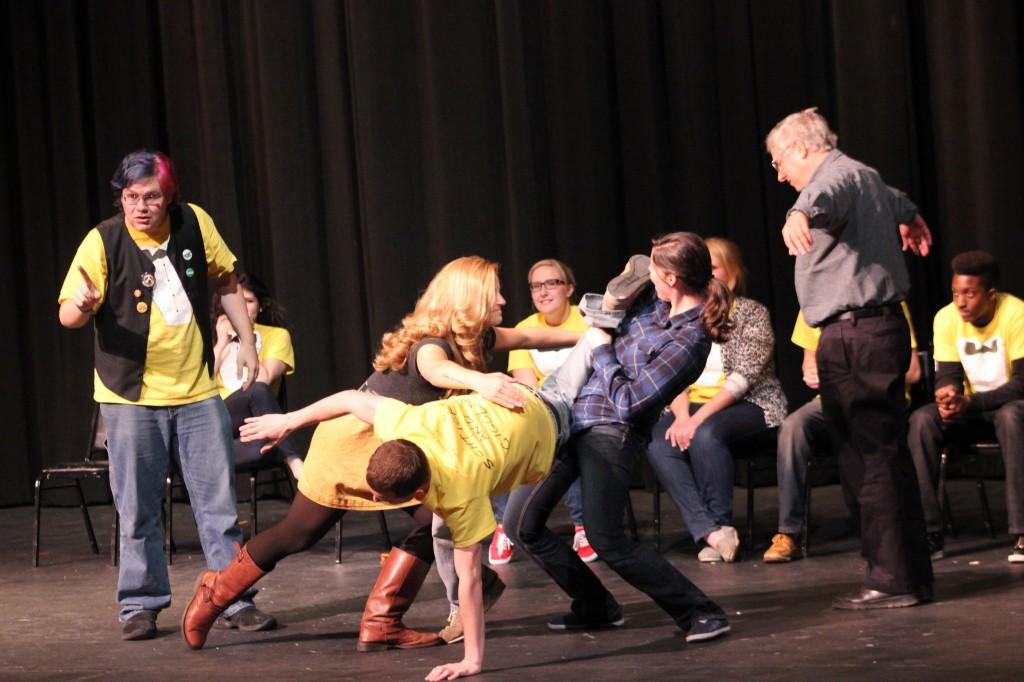 by JANIE HARRIS
Staff Writer
On Oct. 23, Piedmont's improv troupe, Schticks and Giggles, performed a charity show entitled "Comedy for Charity."  The show's proceeds benefited Homestead Women's Recovery, a residential program for women struggling with addiction.
The night was put together by senior mass communications and theatre double major Justin Gilleland as a capstone project. This performance was a combined capstone. It stood as the majority of his theatre capstone and his fifth deliverable of six for his mass communications capstone.
Gilleland's original plan was to take Schticks and Giggles on the road, but because of scheduling conflicts, he decided to do something else. He began his search for a charity that this performance could benefit.
The director of Homestead Women's Recovery, Sandy Lyndon, had contacted Piedmont's theatre department asking to let her know if they did any fundraisers. After his first contact with her, Gilleland drove over to the current facility in Clarksville and spoke with Lyndon for a while about what goes on there.
"We ended up clicking and putting this event together ourselves," said Gilleland.
The W.R. Cleere Mainstage Theatre was populated by students and members of the community alike. Lyndon as well as women currently residing at Homestead were among the group.
Lyndon said, "Homestead is a long term residential 12 step program for women with the illness of addiction.  It takes nine months for our residents to complete our program, but it is only the first step in recovery."
Lyndon herself went through a residential recovery process, and now she is trying to pass on wisdom from her experiences. She said other women there try to do the same; they regard it as paying it forward.
According to Gilleland, they have a 75% recovery rate.
Before the show, there was a bowl for donations in the lobby, and halfway through the show, a donation bucket was passed around.
According to Lyndon in her speech that closed the night's show, the program has just broken ground on a new facility for their residents, and the money donated will go towards that project.
When asked about what he hoped to get out of the performance, Gilleland said, "I'm just hoping to get both our names out there, Schticks and Giggles and Homestead, to kind of bring the school and community together."
The troupe involved the audience by allowing them to pick certain elements of the improv games they played.
Performing that night were not the typical Schticks and Giggles performers Piedmont is used to. Those performing included current troupe members Matt McClure, Kordai Harris, Justin Gilleland, Shelby Myers, and Chase Weaver as well as alumni members Anna Burrell, Britt Hensely, and Oliver Merritt.
At the end of the night they raised a total of $528.
Lyndon said, "This is a dream come true for me, and I am so thankful to Justin for taking us closer to our financial goal."
Schticks and Giggles' next performance will be on Nov. 5 for the Lift 'Em with Laughter charity event, followed by a performance on Nov. 11 at 7 p.m. for their "High School Night."
For more information on the troupe, visit their Facebook page or their new website.