Lady Lions advance to semi-finals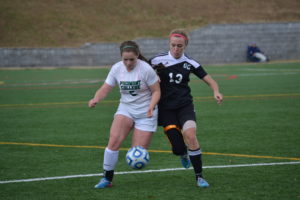 By: Alexandra Smith, Sports Editor
The Lady Lions soccer team faced Greensboro College in the quarter finals of the USA Conference tournament this past Saturday at the Walker Athletic Field.
The Lady Lions scored early on in the fourth minute of play when freshman Caitlyn Dove received a pass from senior Laura Goodwin and slid the shot past the Greensboro keeper for the goal.
This was Dove's first goal on the season, who became the 15th Lady Lion to score this season giving the PC women's soccer team a well balanced offense.
Dove said, "It gave me more confidence and pushed me to work harder in the game. It is making me that much more determined to score another goal to help my team continue in the tournament."
The Lady Lions geld on to the lead despite six shots on goal and numerous corner kicks in the first half.
Greensboro outshot PC six to four in the first half.
The game was a heated rivalry and both teams posted 11 fouls on the game. Both teams were fighting to move on in the conference tournament.
The Lady Lions took hold of the game in the second half outshooting Greensboro four to one.
PC attempted to make it 2-0 when freshman Morgan Edelman headed a ball from a corner kick just wide of the goal post.
PC continued to pressure Greensboro for the remainder of the game.
The pair of Piedmont keepers, senior Marjorie Hammond and sophomore Michaela Gardner held Greensboro scoreless splitting time in the game. Each made a pair of saves to hold PC at 10 shut outs on the season.
Piedmont College was able to use 19 of their 27 players to keep fresh legs in the game.
"We cheered each other on and worked together. We are very good at keeping each others heads up and staying motivated," said Dove.
The Lady Lions posted a total of seven shots on goal compared to the four shots on goal posted my Greensboro.
Dove said this of the Lady Lions preperation for the upcoming semi finals game, "We are staying focused by working hard at practice."
Piedmont Lady Lions soccer team advances to the semifinal match held in Martinsville, VA this Saturday.