Piedmont shows support for Angie Simpson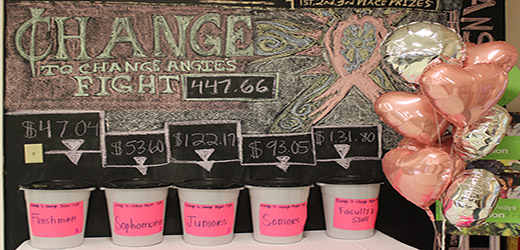 BY HILLARY KELLEY
The Mainstage Theater was full on Thursday night, Oct. 17, for a pay-what-you-can benefit variety show honoring Chartwell's employee Angie Simpson, who is battling breast cancer. 
This is just one of the many ways in which Piedmont students and faculty have banded together for Simpson. 
At the variety show, many students showcased their talent. Acts included freshman theatre major Albert Gerring singing "You Are Not Alone," freshman music major Cheyanne Osario singing "Who Is," sophomore music majors Kate Berardi and Katie O'Neil singing "You and I," senior music major Lydie Koffi singing "You Just Stand," and junior undecided major Storm Tipton singing "Black River." 
Director of Student Activities and Campus Events, Natalie Crawford also performed "Landslide." 
There was also a performance by a few members of Piedmont's improv troupe, Schticks and Giggles. One of the games required on-stage participation of audience members.
"I enjoyed Kate and Katie's song a lot," said sophomore English major Sarah Gesualdo. 
"I also really enjoyed Schticks and Giggles," said Gesualdo. "They're always really funny."
Earlier in the week, many students dyed their hair pink for breast cancer awareness and donated money to the Simpson family. 
A few of the male students who also dyed their hair became a highlighted part of the benefit show when two hairdressers from Shear Perfection came to shave the men's heads. 
Pink tufts of hair drifted to the ground, but some pink dye remained in patches atop each students' head that Tipton described as resembling a world map. 
"This is Africa right here," said Tipton while the crowd roared with laughter.
Two of Simpson's family members also had their heads shaved.
Tipton, who also had a pink head of hair, served as MC for the event and was part of the group of resident assistants in charge of planning the show.  Before the end of the night, Tipton told the audience that money raised for the Simpson family totaled over $700. 
Tipton also announced Osario as the winner of the Mary Kay gift basket that had been raffled off for Simpson's benefit.
He then asked Simpson and her family to stand up and be recognized. 
Upon doing so, the entire audience erupted in an applause that led to each and every one in attendance to stand to their feet. 
Also in the week prior to the event, Piedmont held a Pretty in Pink party, where stage three breast cancer survivor Amy Moore gave an inspirational and educational speech about battling cancer. 
"[My mother] answered many of Mrs. Angie and her husband's questions, and overall I think it was a great success," said daughter of Moore and sophomore English major Catherine Moore
"We have added [Simpson] to our prayer chain, and we have full confidence that she can beat this demon," said Moore.
Change is still being collected in buckets labeled for each class, as well as for faculty and staff, in the cafeteria. 
To keep up with the amount of money raised for Simpson and her family over the next few weeks, visit The Roar at www.piedmontroar.com.