Leading Lion: Women's Soccer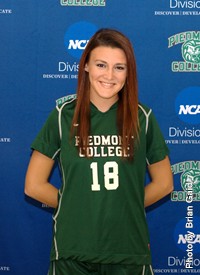 Megan Hatfield
Freshman, graphic design major
High School: Mill Creek High School
Hometown: Dacula, Ga.
Experience: I've been playing for 15 years.
What is your greatest personal achievement? 
My greatest personal achievement is playing soccer again after I broke my spine last year it's been tough to come back but I did it.
What are your pregame rituals?
I have to listen to music to play well and I love that we pray before games I have to do that in order to play well.
Why did you choose PC?
I chose PC for the soccer program and for their fine arts program which is one of the best in the state plus I wanted a smaller school.
What are your plans after graduating Piedmont?
After graduation I hope to join a firm of graphic designers and put college learning to use.
So far this season, Hatfield has posted five goals and two assists. She has started in five games for the Lady Lions.