Leading Lion: Men's Soccer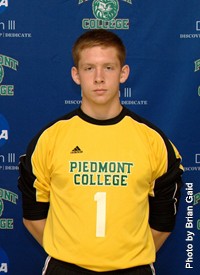 Kenneth Hearn
Sophomore, biology and chemistry double major
High School: Union Grove High School
Hometown: McDonough, Ga.
Experience: I've been playing soccer for 15 years.
What are your rituals and 
superstitions?
I always shave and wash my face before games, I also watch goalkeeper highlight reels especially from Joe Hart and Manuel Neuer. I always chew Winterfresh gum during games. And I always touch my right post, shuffle to my left post, touch it, and then my crossbar before the start of each half.
Why did you choose PC?
I chose PC because it was a small school with small class sizes which offered the majors I wanted and gave me the opportunity to play the sport I love.
What are your plans after graduating Piedmont?
I plan on applying to medical school and study to become a Pediatrician.
What is your greatest personal achievement? 
Id say the achievements I'm most proud of are maintaining a 4.0 GPA throughout high school and college so far. I'm also very proud of being accepted to a 3 month internship at one of Germany's top medical devices and supplies companies, Fresenius.