Getting involved in intramurals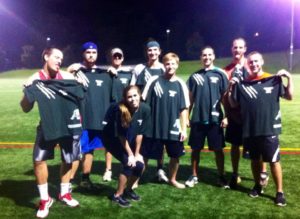 By: Jamie Doublet, Staff Writer
Now that Piedmont's academic year is in full swing, students are settling into their niches around campus.
If students are still having trouble finding their place on campus, they may need to look no further than Piedmont's intramural sports division.
Garrett Lovelace, graduate student and head of intramural sports, said, "Intramural sports should be a big part of every Piedmont student's college life."
Along with being involved, Lovelace mentioned that students on campus can have a tendency for complaining that there is almost nothing to do on campus.
"Intramurals are the perfect excuse to do something and get out of your dorm room, away from academic studies for a while," said Lovelace.
Lovelace, who has always been an avid gym-goer, took the liberty of constructing the outdoor fitness garden at Piedmont College.
There are several intramural sports offered on campus that suit every type of personality: dodgeball, kickball, water balloon, powder puff football, sand volleyball, badminton, corn hole, flag football, basketball, ultimate frisbee, softball, and an Xbox tournament.
If students are worried about being able to compete, they can find time to practice and hone their skills while getting to know their fellow teammates.
Students can find information via the Piedmont college intramural page on Facebook-Piedmont College Intramural Page- as well as Garrett Lovelace's personal Facebook page. If students have a Twitter account and are interested, they are encouraged to keep an eye out for an upcoming Piedmont College Intramural Twitter account called Piedmont College Intramurals. Students who are interested can sign-up in the caf every Tuesday from 11 p.m. to 1 p.m. or email Garrett Lovelace at [email protected]
For students who might not be comfortable actively participating in one of Piedmont's thrilling intramural sports, events are held at 7 p.m. every Tuesday evening. Signs are also posted on the doors of the cafe every Tuesday.
If students are wondering what the incentive to voluntarily exercise when they could be in their dorms watching shows on Netflix, trophy t-shirts are given out to winning teams. Aside from that, it's an extremely fun way to be healthy, stay in shape, and make friends.
For those interested, the remaining schedule for intramural sports this Fall semester is as follows: Corn hole is Oct. 8, Powder Puff Football Oct. 15, Wall Ball Oct. 22, Sand Volleyball is Oct. 29, Basketball is Nov. 5, Flag Football is Nov. 12, Ultimate Frisbee is Nov. 19, and the Xbox Tournament is Nov. 26.