Ann Ward at Piedmont's Grill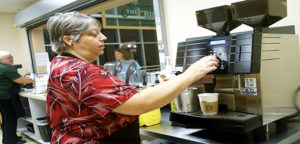 Ann Ward prepares a Starbucks beverage for a student in the Grill.
By MANYI ENO
The neon open sign that used to glow at The Grill on Georgia Street may be gone, but students regularly visit The Grill's new location in the Johnny Mize Center and see a familiar face.
Gina-Ann Ward smiles as she scans identification cards, pressing the necessary keys on the register. When the cook for that day finishes the order and calls the name on the ticket, Ward tells the student, "You have a nice day, hon," and continues with the next student.
No taller than 5 foot 5 inches with a short hairstyle, a gold name tag reading "Ann," and a warm smile on her lips, Ward knows how to make locals and students feel welcome in the small on-campus campus restaurant.
Born and raised in Oak Ridge, Tennessee as the youngest of three children, Ward grew up on a farm,  tending to all the usual necessities of the animals and playing outside until dark. 
When she married, she and her husband decided to move to Macon. 
Three children later, Ward and her husband divorced and went their separate ways. Ward decided to stay in Georgia to go back to school for a degree as a Certified Nursing Assistant and a little more money to help pay the bills.
She later moved to Demorest, in search of something more.
Somehow she found The Grill on Georgia Street. 
"When I applied for the job, I didn't even know it was at the college," Ward said. 
The Grill is not only for Piedmont College students,but is also open to locals in and around the city of Demorest.
"She's like a mother figure," said senior mass communication major Danielle Morgan. "She's so sweet, caring, and genuine." 
Ward is also known for her seriousness with her job and making sure things are in order. 
"She's the real deal," Morgan said. "You can't expect to get away with anything when it comes to Ann."
Piedmont students get $100 or $50 dollars on their accounts towards The Grill, depending on their meal plan. 
If a student wanted to buy something for another student, they have to be present in the restaurant so that Ward knew they were not using the student's card without permission.
Ward also tries her best to see the theater productions put on at the college. 
"I love the shows the kids do," said Ward. "They are so talented." 
The improv group Schticks & Giggles has strong ties to the Grill. They have performed shows at the Grill's former location to give students a break from night of studying.
"I especially love when they do improv. It always makes my night," Ward said.
Ward's youngest son is also in college and is currently a freshman. 
"When I am working here, I think about how I would want him to be treated and that's how I treat the kids here," said Ward. 
Senior mass communications major Wesley Campbell had nothing but kind words to say in regard to Ward. 
"She knows how to make people feel welcome when they come into The Grill," said Campbell. "She's an awesome lady." 
Not only has Ward had an impact on the students at Piedmont, but they've had an impact on her.
Ward smiled when asked if she liked her job at The Grill. 
"I really do. I love the students," said Ward. "They make my day."