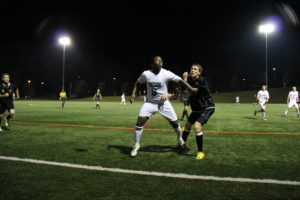 On Tuesday, Sept 17, the Piedmont Lions men's soccer team hosted the Oglethorpe Stormy Petrels.
The Lions made the initial offensive push, with coming from shots from senior Justin Whitaker and junior Vincent Thomas.
The Petrels then countered with offensive opportunities of their own.
A penalty by the Lions presented Oglethorpe with a free kick. This attempt, however, would be thwarted by sophomore goalie Kenneth Hearn.
The Lions defense then provided another offensive chance, as defensive pressure forced a loose ball.
Whitaker seized possession and then took a shot near the 18 yard box. Whitaker's shot deflected off the Stormy Petrel's defense past the keeper and into the goal, giving the Lions a 1-0 lead that they would carry into halftime.
Oglethorpe would come out firing on all cylinders in the second half, however. Within eight minutes, the Stormy Petrels had three shots find the back of the net, putting them up 3-1.
The Lions would get several more shots, but none that would capitalize.
Hearn had seven saves for the Lions. Whitaker led the team in shots with five, including the only Lions goal.
The loss dropped Piedmont to 1-4 on the season. The Lions next game will be a USA South conference match as the Lions play host to Methodist University on Sept 29. Kickoff time will be at 3 p.m.