Lady Lions Soccer shut out Petrels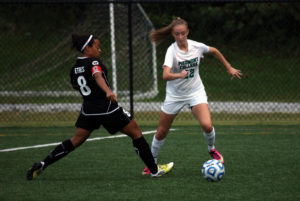 On Sept 12, in the fourth game of their season, the Piedmont College women's soccer team shut out Oglethorpe University's Stormy Petrels with a score of 2-0 in the fourth game of the season. This improved Piedmont's overall record to 3-1 and added to their now three game winning streak.
Piedmont started the first half off fast when junior Taylor Hockley scored within the first 15 seconds of the game, with an assist from Freshman Megan Hatfield.
"Our coach told us to score in the first 30 seconds, and we did. Overall, I feel like we are finally clicking as a team," Hockley said.
This was the only goal scored during the first half. Still, just before the buzzer sounded, Piedmont had the crowd on the edge of their seats as they attempted another goal. The shot was missed, and the crowd let out a sigh.
The second half began similar to how the first half began. Within the first five minutes, Hatfield scored Piedmont's second goal with an assist by Laura Goodwin. This was the last goal of the game.
"We knew we had to strike fast," said Hatfield. "This team was more physical than the teams we've played this year, and it was a test to see how we would react to physical pressure. I'm very happy overall with our play."
In the end, Piedmont had 18 fouls, 15 shots and nine shots on goal. This is comparable to Oglethorpe's nine fouls, 13 shots and three shots on goal. Piedmont's goalie, senior Marjorie Hammond, had three saves.
"It was a really hard fought win against a good Oglethorpe side. We have been trying to emphasize a fast start for the past few games, and it was good to see us get a really early goal that took the pressure off of us. We were able to get a lot of players some playing time that will hopefully benefit us when we start conference play," said head coach Stephen Andrew.
"Our whole team was on fire, and we came out flying," said Hockley.
The Lady Lions face Meredith College on Sept 27 at 4 p.m. at their own Walker Athletic Field.