Leading Lion: PC Women's Soccer
Shayna Rogers
Junior, nursing major
High School: Grayson High School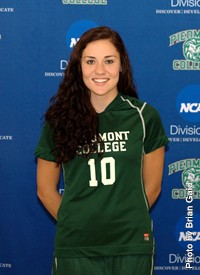 Position: Midfield
Hometown: Monroe, Ga.
Experience: I've played soccer since I was four.
Why did you choose PC? 
I came to Piedmont to play soccer and be able to focus on my school work and hopefully make it into the nursing program.
What is your greatest personal achievement? 
My greatest accomplishment is getting into the nursing program since it was so competitive.
What are your pregame rituals?
I don't have any pregame rituals.
What are your plans after graduating Piedmont?
I would love to travel to Australia after I graduate. I have always wanted to go there.
Last season, Rogers started 15 games as a sophomore and appeared in all 20 contests. She wasfourth on the team in shots with 26, and posted 22 shots on goal. Rogers was also a USA South Academic All-Conference selection.