Overtime win for Lady Lions Soccer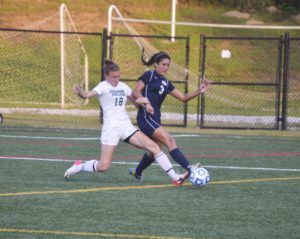 On Wed., Sept. 4, the Lady Lions soccer team hosted the Truett-McConnell Bears. In a defensive struggle, the game went nearly 80 scoreless minutes before either team notched a goal. Although the Lady Lions were not able to capitalize on early scoring opportunities, they did control much of the game, outshooting the Bears 19-9. The Lady Lions had several opportunities in which they slipped past the Bears back four, only to be stopped by strong play by the Bears goalkeeper, who would tally nine saves on the game.
The Lady Lions finally scored at the 79:32 mark, on a go-ahead goal by junior midfielder Shayna Roberts into the right corner of the goal on the assist from freshman midfielder Savannah Castles. The Lady Lions' lead would be short-lived, however, as Truett-McConnell answered back with a goal of their own within 25 seconds of Piedmont's score to tie the game at 1-1.
At the end of regulation play, both teams were still knotted at one goal apiece. The Lady Lions did not wait long into regulation to see the game decided. Less than seven minutes into the overtime play, reigning USA South Conference player of the week and senior forward Laura Goodwin took a long-range shot towards the net. Although the Bears goalkeeper was able to get a hand on the shot, it was not enough to keep the ball from slipping into the goal to seal a 2-1 victory.
When asked about the Lady Lions' victory, Goodwin said keeping composure was the key to the Lady Lions' win.
"It was a really rough game, and our team decided to play through it and not get frustrated," she said.
About her game-winning goal, Goodwin said, "At first, I didn't know the shot went in, and I thought the goalie had tipped it over the net. I think most of us were running in to get ready for a corner kick. I just knew I had an open shot, and I don't think I realized how far out I was, but our coach always says he won't get mad at us for shooting, and that you can't score if you don't shoot."
The win moved the Lady Lions to 2-1 on the season.
The Lady Lions have a week off until their next match which is on Thursday Sept. 12.
They will host Oglethorpe University, and kick-off is set for 7 p.m.