Volleyball digs out two wins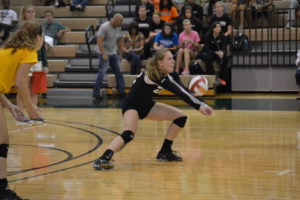 The Lady Lions volleyball team hosted Oglethorpe University and Brewton Parker College this past Saturday for a non-conference trimatch. The Lady Lions faced Oglethorpe University's Stormy Petrels in their first match of the day.
The Lady Lions spiked their way ahead early after Piedmont's own Jackie Campbell, a junior outside hitter, put one straight down on Oglethorpe's side. Oglethorpe responded, and the rally continued throughout the first part of the set.
The Petrels pulled ahead 12-6 over the Lady Lions. Piedmont made a comeback to close the gap, but their efforts fell short when the Petrels strung a few good points together to close the set with a win at 25-20.
The Lady Lions came back on the court and seemed determined to win the next set. They battled through but started to waver. Oglethorpe pulled ahead to win the set 25-20.
Two sets behind and confidence down, the Lady Lions came back onto the court cheered on by a packed gym. The Lady Lions took the lead at 13-8  and again at 21-15 battling for every point.
Jennifer Opper, a junior middle hitter, capitalized with a driven spike that seemed to clip Oglethorpe's momentum. The Lady Lions won the third set 25-16.
Piedmont took the early lead in the fourth set, still working off of the momentum from the crowd. Oglethorpe tied the set at 13-13, at which point every point became highly contested for. It was all tied at 22-22 when PC took the last three points to win the set 25-22.
Piedmont led the whole fifth set, which is the first to 15 instead of 25. The Lady Lions won the fifth set 15-7 to take the match three games to two.
Sid Feldman, the women's volleyball head coach, said, "We never won a five game [match] last season. This year, we have already won three. We have started keeping score at practice, and this has made all the difference."
"We changed our blocking pattern and our back row hit line," said Feldman of the comeback. "I wanted to thank the crowd. It was a huge turnout, and I think that we won the forth set because of the crowd."
Piedmont had a break between games but came back ready to take on Brewton Parker College.
The Lady Lions started off slow against Brewton Parker, but came back to win the first set 25-21.
In the second set, the Lady Lions were again trying to find their rhythm. PC was down 21-24 but tied the opponent at 24. The Lady Lions pulled out the last two points to win it 26-24.
The Lady Lions held the lead all the way through the third set to win 25-11.
"This game was slow, but it was good for our stats, and a win is always good," said Opper. "We have good chemistry this year, and these slow games help us to put that to use."