Wanderlust: Piedmont Student Perspective on DragonCon 2013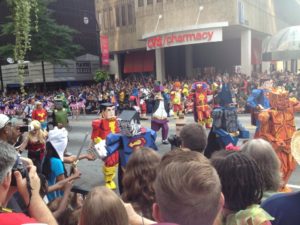 By ROBBY BAILEY
The thing that I like best about DragonCon is the Marta ride station into the city. Along the stops, you are joined by an array of painted faces and shiny creatures. 
You could find yourself sitting next to a Spartan and look across the way to see an Orc sipping from a Big Gulp. 
On this train ride anything is possible. It gets you in the mindset for DragonCon because it is an absurdity of life that makes DragonCon one of the best weekends in Atlanta.
DragonCon is the once a year convention where nerds, geeks and dorks take over downtown Atlanta. 
This year it was held from Aug. 29 to Sept. 1.
It takes place in the Hilton, Hyatt, Marriott, Sheraton and Westin hotels. It is a four-day event where you can see and participate in panels on a wide array of things. 
For example, I saw a panel with Ed Asner, Emmy winner and voice of Carl Fredrickson of "Up," about professional voice acting, and we did a panel on Peter Davidson, the fifth Doctor from "Doctor Who." 
But, I also spent a lot of time going to panels on writing and even attended one on video games. 
The people watching gets better every year because, I would say about 75 percent of the people you cross paths with are in costume, and about 60 percent of those people have taken the time to make it look right. 
I judge my level of nerd every year by being able to see something and not having to ask who they are. 
You can go on the DragonCon hashtag on Tumblr and see them for yourself.