When the Lady Lions take the pitch, one athlete stands out among her peers. At 32, Ashley Still is definitely not your typical college sophomore. After winning multiple battles against cancer, the striker is ready to take on any opponent on the field.
"Soccer is my happy place," said Still, who finally had the opportunity to play for the Piedmont women's soccer team this season, more than a decade after she was initially recruited.
Still remembers being a young girl looking up to female soccer stars. Legends like Brandi Chastain, who got kicked off the United States Women's National Team, but trained hard and worked her way back onto the team, eventually scoring the winning penalty kick in the 1999 Women's World Cup Final.
"I really liked soccer and the physical aspect of it," said Still.
The challenge and competition within the sport were captivating, and she fell in love with it.  Because of her love for soccer and the grind that goes along with it, her drive for success helped her thrive in zealous environments, in turn improving her abilities and confidence.
What she did not expect were the challenges of life to interfere with her hopes and dreams of playing the sport she loved at the collegiate level.
"In my head, I was only thinking Division I," she said, adding that as a competitive high school athlete, she experienced feelings that many students looking to play their sport in college battle with daily. "Going into my junior and senior years, all I did was soccer and I kind of dropped off. My grades weren't that great, so my D1 offers got pulled."
Timmy McCormack, Piedmont's assistant women's soccer coach at the time, attempted to recruit Still, but she ultimately chose to attend NCAA Division II Georgia Southwestern State University in Americus, Georgia.
In 2010, she enrolled as a freshman on the GSW women's soccer team, but due to her academic struggles, was unable to play. The transition from playing 90-minute games in high school and club soccer to sitting on the bench was beyond frustrating for Still.
In 2011, she decided to drop out of college and return to her hometown of Athens, Georgia, where she managed a bar downtown while also helping coach at Athens United, a local soccer club.
She spent seven years working and playing pick-up soccer games in her free time before she began to experience drastic health issues.
"I just kept declining and not getting better. I didn't understand because I was eating healthy. I was training all the time, playing soccer four to five times a week," said Still.
Her constant fluctuating weight and anemia baffled her and her doctors. After dealing with health concerns and receiving no answers for more than three years, Still was diagnosed with stage three colorectal cancer.
"I got diagnosed in 2020, and it was the same week the whole country shut down in March for COVID," said Still. "My support system couldn't come with me. I did everything by myself, meaning doctors and hospital stays. It was very strict."
Still spent the next eight months going through surgeries, radiation and chemotherapy, all with little support due to the pandemic.
In December 2020, the doctors announced that she was in remission. Less than a month later, Still found an avenue back into her passion, soccer. She began to assistant coach at Clarke Central High School in Athens, the same school she graduated from.
"Coaching was fun," Still said. "It made me regret not playing and continuing. That's when I found out that I could still play."
Chris Hulse, the head women's soccer coach at Clarke Central, saw Still's talent when she would join in on drills in practice. Hulse told Still that because she did not continue her studies at GSW, her eligibility should still be intact.
"D3 student-athletes have 10 semesters to compete in gameplay, and they can drop out of school and return to finish their 10 semesters at any time. This means there are no eligibility-related restrictions that limit the age cap for D3 student-athletes," according to NCSA, a collegiate athlete information and recruiting website.
Upon learning this information, Still decided to return to college and relaunch her soccer career  at Georgia Military College in August 2021. Her initial return to the pitch, along with the demands of being a college student again, proved challenging for Still.
"Honestly, I was a little disappointed because I had just gotten done with cancer treatment and I trained all summer," said Still, admitting that the quality of play was not what she had expected.
Yet as she inched back into her collegiate career, Still remembered Coach Timmy McCormack from Piedmont University reaching out to her back in the early 2000s. When she saw that he had taken over the head coaching role, she decided to reach out.
"I was excited she contacted us again years later," said McCormack. "We always wanted her to play for us when she first came out of high school, so to have a chance to see her play as a more veteran player would have been a great pick-up for our program."
In April 2022, while Still was anticipating transferring to Piedmont and finally getting to play for a school that had recruited her back in high school, she was hit with shocking news.
The cancer had come back.
During the 2022 season, when the Piedmont women's soccer team won the inaugural Collegiate Conference of the South regular season and tournament championships, Still helped lead the team to victory in a different role than she had originally anticipated. She supported the team as an assistant coach alongside Timmy McCormack and Stephanie Lamm.
"It was exciting because I wanted to come play, and it was a bummer that I couldn't, but it was still cool to be a part of a team," said Still, who, while being a student and a coach, was also traveling to Houston every three weeks for cancer treatment.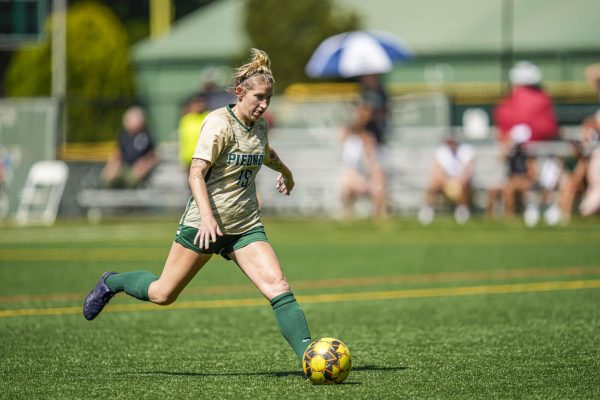 Going into the fall of 2023, Still decided to take a risk and finally play collegiate soccer while managing treatments, working and being a full-time student.
"Finally bringing her into the program felt a little surreal," said McCormack. "To finally see it come to fruition was great for our program, but honestly, I felt even better for her. To see her finally see her dream realized — that was the best part of the whole scenario."
This season, Still appeared in 17 contests, five of which she was featured in coach McCormack's starting lineup as a center forward. She scored a goal against the Wesleyan Wolves and totaled 16 shots on goal for the season. Still looks forward to playing two more years and giving all that she can, despite still fighting her battle with cancer.
"It's hard. I have to take it day by day," she said. "I don't always get the best news. I don't always feel the best. I know that I'm going to miss class and I'm going to fall behind. So, the best way that I've learned to manage is by communicating with all my professors and with my coach."
She has fought many battles throughout her life to get to the point where she is now, and continues to do so as she battles against cancer on a daily basis. Her ability to seize an opportunity and not give up on herself and her dreams is encouraging to anyone struggling in life.
"Ashley is an encouraging force on and off the field, always supporting her teammates and checking in on them, even when she may be having a rough day herself," said Chloe Spradlin, senior defender for the Lady Lions. "Her perseverance is infectious."
Still wanted to play collegiate soccer since 2009. After 13 years of overcoming adversity, she is finally living out her dream as a forward for the Piedmont Lions.
"It is kind of full circle. I talk about it all the time," said Still. "It's like, maybe it was meant to be. Maybe not back then, but it definitely is now."