Construction disturbs Piedmont's local poltergeists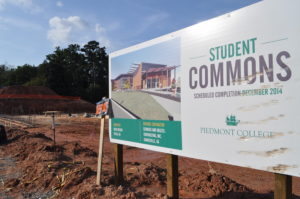 By TYLER DALE
Opinions Editor
Piedmont is a growing school. Its expansion has manifested itself in the ongoing project that is our new student center.
What Piedmont doesn't want you to know, however, is that the student center is being built on an ancient Native American burial ground.
As a result, campus has been run amok with various poltergeists.
Snakes have been appearing on the bridge, power outages have been reported all over campus. WEPA printers have been printing exclusively in Cherokee, all as a result of the new student center.
Many ghosts are so upset about being disturbed that they're not willing to see me for an interview.
However, some of the specters have taken a more welcoming approach to Piedmont's new developments.
"I'm totally fine with this, as long as they install a pool. Years of decay have left me quite dehydrated," said one spirit.
Another supernatural entity, upon learning of plans for a rock-climbing wall, stated:
"I'm gonna haunt that wall. I'm gonna haunt it so hard. Ain't nobody gonna make it to the top."
Once again, though, not all ghosts have embraced the change so warmly. Students may have noticed the unusual impromptu rainstorms, shoddy WiFi in the dorms or a strange smell coming from the caf.
All of these are a result of the disturbed rest of a few Indians. But instead of arrowheads, we're stuck with a malicious group of otherworldly invaders.
So Piedmont, ask yourself, is a new student center really worth it? The Cherokee Nation says "Tla."