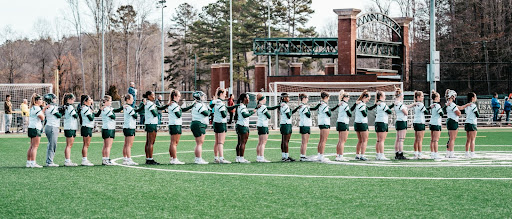 Piedmont women's lacrosse welcomes Emilee Heffner as the newest member to their coaching staff. This comes shortly after former assistant coach Brooke Thacker was elevated to head coach earlier this fall.
Thacker said: "I want someone that the girls can go to, and I think she can connect with them super, super well. The way she carries herself, I think she's going to be a great addition to our team. I'm super excited. She's already been helping with the defense, so that's been a good start."
This is Heffner's first full time coaching position, having previously served as a volunteer assistant women's lacrosse and women's soccer coach for Oglethorpe University. Prior to coaching, Heffner was a two-sport athlete, playing soccer and lacrosse for the Stormy Petrels. Over her lacrosse career, she amassed 38 starts in 48 games over five years in defense at Oglethorpe.
Heffner said: "It's awesome, I absolutely love it. I couldn't ask for a better job. The team is fantastic." 
Women's lacrosse have spent the last two months this offseason conditioning and preparing for their spring season. They had a fall play day on Oct. 28, where they scrimmaged against three other universities to prepare for their regular season next semester.
"I think we're trying to implement things that I've done at Ogle that I think worked well for us in the fall, and bringing it here and trying to see if it works well with this team," Heffner said. "I haven't been around the program at all. I think it's helpful for me coming in not knowing anything and having a clean slate, and being able to bring in different ideas that maybe they haven't had in the past."
Thacker spent the last two years as Piedmont's assistant coach before being announced as head coach this August. This is Thacker's first head coaching position in her career. Both Thacker and Heffner will enter new territory this season.
Thacker said: "We have similar mindsets, so when we're planning practice we have the same thought process. Then she'll kind of come up with a few things I might not have thought of and vice versa, which I think is great when we're tackling different things throughout the day."
Piedmont women's lacrosse will open their regular season next spring on Feb. 14, 2024, against Heffner's alma mater, Oglethorpe University. Keep up to date with women's lacrosse's upcoming season at piedmontlions.com