Piedmont College dorm gets Minecrafted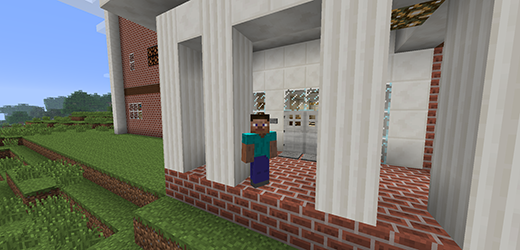 By MANYI ENO
Staff Writer
Summer: most students spend it on the beach or out of town.
However, two of Piedmont's seniors decided to spend their last few days of July building a virtual replica of Ipswich with the online gaming program Minecraft.
"We were talking about what to build while playing Minecraft and Galen said 'Let's build Ipswich,'" said senior biology major Anthony Wright.
"We worked on it together and switched places when the other got tired," said senior mass communications major Galen Morris.
Minecraft is a game about breaking and placing blocks, according to the program's website.
"Everything is generally a cube," said Morris.
The Minecraft website also explains that, at night, nocturnal monsters come out and attack players.
"The object of the game is to survive," said Morris.
"So you chop down trees and use them to build materials."
Minecraft was created by Markus Persson, who wanted to create his own games after quitting his job as an established game developer. As of Nov. 19, 2011, Jens Bergensten took over creative control so Persson could concentrate on other ideas for the program, according to the Minecraft website.
As simple as it sounds to build a dorm on Minecraft, that was not the case for the seniors.
"We built it from memory," said Morris.
"We had to lay each block individually, and it would be hard to make it to scale because you can't make the walls thin on the inside or outside."
Morris said it took roughly 18 hours to finish building the virtual dorm.
"It took one hour to build one wall," he said.
The layout of Ipswich is similar to that of an apartment. Each suite has a kitchen, a living room and four individual rooms with their own bathrooms.
With the program Minecraft, a player can create essentially anything, according to Wright.
"People have created calculators and computers out of blocks. We built a working elevator, but you can only go up and you would have to jump off to get back to the bottom floor," said Wright.
The seniors also built a secret attic in the roof of the building accessible through a secret passageway.
Wright and Morris said their plans for their creation were to show it off to the other students in their suite once they finished.
"We can put it on a server where other people can view it also," said Wright.
Morris and Wright said, in the near future, they plan to take the picture of the new student center, which is currently under construction, and build what they think will be on the inside.
"It was a lot of work, but we had fun," said Morris.
Check out piedomontroar.com for extra, exclusive content about Morris and Wright's creation.